Iran
Iran supports Iraq's territorial integrity: Cleric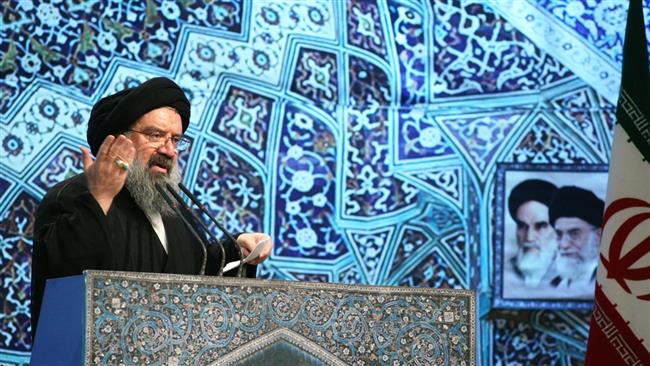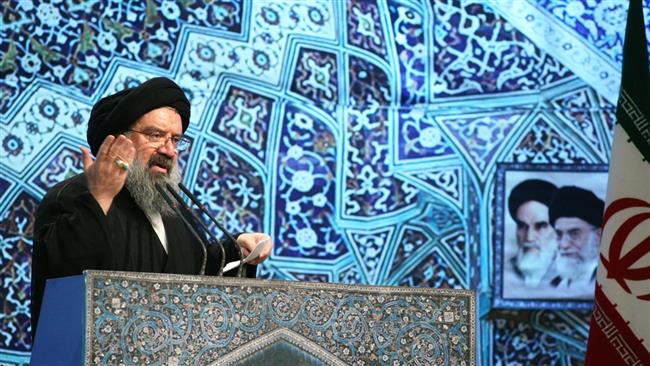 A top Iranian cleric has heaped praise on the Iraqi army troops for their recent victories against the ISIL Takfiri terrorists, reaffirming the Islamic Republic's support for Iraq's territorial integrity.
"The Islamic Iran supports Iraq's territorial integrity and Iran's aid for this country aims to thwart enemies' [plots] to disintegrate Iraq," Ayatollah Ahmad Khatami said in a sermon to worshippers during weekly Friday Prayers in Tehran.
"Not only do we recognize Iraqi borders, but also we respect all international frontiers," the senior cleric added.
He hailed victories achieved by Iraqi army troops, backed by volunteer forces, in pushing out the ISIL Takfiri militants from several areas in the northern province of Salahuddin and expressed hope the Iraqi army would succeed in eradicating the terrorists.
All countries know that Iran provided "advisory" assistance to the Iraqi government in its fight against the ISIL militants, particularly at a time when arrogant powers refrained from offering any help to the war-stricken country, Khatami said.
He emphasized that the Islamic Republic would stand by the Iraqi nation to rebuild the country and resist enemies' plots.
According to Press TV, Iraqi army troops, backed by volunteer forces, on Thursday managed to liberate several other areas of the embattled city of Tikrit in the province of Salahuddin from the ISIL Takfiri terrorist group.
The Iraqi security forces recaptured the presidential palace's complex, the industrial neighborhood as well as general and military hospitals in Tikrit.
Reports also said that the Iraqi air force pounded several ISIL hideouts in the center of the strategic city.
Earlier this month, some 30,000 Iraqi troops started large-scale operations to recapture Tikrit, which is the birthplace of former Iraqi dictator, Saddam Hussein. The volunteer forces, which include both Shia and Sunni members, have also joined the operation.
Located some 130 kilometers (80 miles) north of the capital, Baghdad, Tikrit was overrun by the ISIL terrorists in the summer of 2014 along with Iraq's second-largest city, Mosul, and other areas in the Arab country's Sunni heartland.
Tikrit has a strategic position as it sits on the road to the ISIL stronghold, Mosul.
The ISIL terrorists, many of whom were initially trained by the US Central Intelligence Agency (CIA) in Jordan in 2012 to destabilize the Syrian government, now control parts of Iraq and neighboring Syria. They have been engaged in crimes against humanity in the areas under their control.