Lebanon
Iran supports stability, territorial integrity of Lebanon: ambassador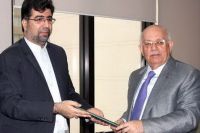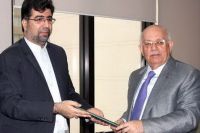 Iranian ambassador to Lebanon Ghazanfar Roknabadi on Tuesday said that Iran supports stability and territorial integrity of Lebanon.
Roknabadi made the remarks in a meeting in Beirut with Lebanese Minister of Social Affairs, Rashid Derbas.
The Iranian ambassador presented the Lebanese minister with a congratulatory message by his Iranian counterpart, Ali Rabiei on his appointment to the post.
According to IRNA, the two sides discussed issues of mutual interest as well as the latest regional developments.
Referring to signing 7 MoUs between Iran and Lebanon during a visit to Tehran by former Lebanese prime minister, Saad Hariri, Roknabadi called for practical measures to implement those agreements.
He reiterated Iran's policy to support resistance of the Lebanese nation and government to the occupying regime of Israel and said establishment of stability in Lebanon and its territorial integrity is Iran's top priority.
In the meantime, the Lebanese minister of social affairs expressed hope that with formation of a new government in Lebanon the already signed document between the two countries would be implemented soon.