Iran
Iran, Tajikistan Keen to Expand Economic Ties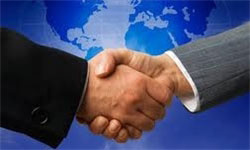 Iranian Deputy Foreign Minister Behrouz Kamalvandi and Tajikistan's Foreign Minister Hamrokhon Zarifi in a meeting in Dushanbe explored avenues for further expansion of bilateral ties, especially economic relations.
During the meeting in Tajik capital on Friday, the Iranian deputy foreign minister and the Tajik Foreign Minister underlined the need for expansion of economic relations between the two countries.
During the meeting, Kamalvandi described bilateral ties between Iran and Tajikistan as good and friendly, and said, "The existing potentials should be used for further development of relations between Tehran and Dushanbe."
Zarifi, for his part, underlined broadening of ties between Iran and Tajikistan, and said, "Iran has implemented many projects in Tajikistan and is known as the Central Asian country's important trade partner.
The Iranian deputy foreign minister embarked on a 2-day visit to Tajikistan on Thursday.
Earlier this year, Iranian Parliament Speaker Ali Larijani in a meeting with his Tajik counterpart Shukurjon Zuhurov in Islamabad underlined the necessity for bolstering cooperation grounds between the two countries.
"There are abundant grounds for cooperation between Tehran and Dushanbe which should be strengthened," Larijani said during the meeting on the sidelines of a meeting of the Parliamentary Assembly of the Economic Cooperation Organization (PAECO) in Pakistan in February.
He stressed Iran's readiness to implement different projects in Tajikistan, and said the two countries can cooperate with each other in water, gas and electricity fields.
Zuhurov, for his part, described Iran as an important trade partner for Tajikistan, and said, "Iran and Russia share a highly important role in (the maintenance of) regional peace, specially in Tajikistan."
Iran and Tajikistan have recently accelerated expansion of their ties and cooperation and observers believe that the good achievements gained in area of their mutual cooperation should be deemed as a result of the efforts made by the two countries' officials.
Iranian President Mahmoud Ahmadinejad and his Tajik counterpart Emomali Rahmon, in a meeting in the Kuwaiti capital city late October, explored avenues for the further expansion of bilateral relations.
During the meeting held on the sidelines of the 1st summit of the Asian Cooperation Dialogue (ACD) in Kuwait city, Ahmadinejad and Rahmon studied the ongoing cooperation between the two countries as well as future outlook for mutual cooperation.
The two sides also underlined the necessity for rapid and effective implementation of joint infrastructural projects in the field of energy, transportation, industry, agriculture, economy, science and culture.