Economy
Iran
Middle East
Iran takes boldest step toward industrialization under sanctions
Iran is taking its boldest step yet toward industrialization under the country's "resistance economy" blueprint, sinking billions of dollars into its leading businesses with the aim of building top-notch industrial groups.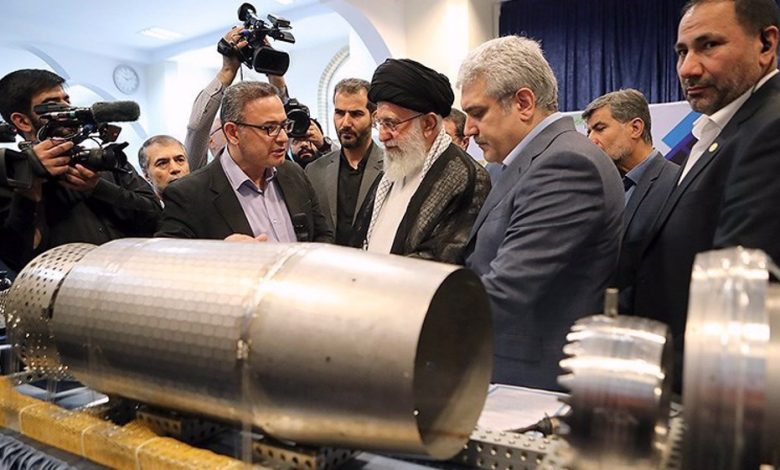 The resistance economy is a concept proposed by Leader of the Islamic Revolution Ayatollah Seyyed Ali Khamenei in 2016 to leverage domestic capabilities in order to overcome gaps resulting from US policies to restrict business with Iran and insulate the economy from sanctions or hostile foreign activity.
Five Iranian companies on Monday signed "resistance economy cooperation" agreements worth $6.1 billion to remedy sanctions-related gaps and fallouts from the exit of foreign firms, Deputy Industry, Mining and Trade Minister Saeed Zarandi said.
Chadormalu Mining and Industrial Company, Machine Sazi Arak, Al Mahdi Aluminum Complex, Shirin Asal Food Industrial Group and Sepahan Oil Company were among 23 companies which have announced readiness to participate in the program.
"By implementing this plan, we can make up with the help of national capital resources for the absence of the countries that have turned away from the Iranian economy due to sanctions," Zarandi said.
The government, he said, has invited 100 leading companies operating in Iran's petrochemical, mining, automotive and non-metal industry sectors to undertake investment activities.
Increasingly in recent years, Iran's state planners have called amid the sanctions for shifting the economy from its dependence on technology imports and construction of industrial facilities by foreign companies to focus on home-grown industries.
Innovative economy
Zarandi underlined the need to establish tech-driven productivity in Iranian enterprises, saying the future of improving the country's overall economy hinges on this concept.
"Manufacturing firms need to invest in research and development because any improvement in the rating of companies occurs with innovation in large corporations," he said.
Research and innovation is regarded as the key driver of national economic and social advance. The government is pushing the companies to invest in R&D while shielding them from competition.
The plan is to bring industry R&D and production infrastructure together with local and national universities and research facilities to create an innovative economy adept at turning ideas from laboratories into products and industries.
This close collaboration between government, industry, and the academic community is hoped to lead to the emergence of small to medium-sized businesses.
Zarandi underlined the importance of networking between big and evolving businesses, saying "this can save the country's industry".
The aim is to create industry clusters to promote job creation and economic growth. A cluster-based approach starts with the industries and assets that are already present in the region and regional stakeholders pursue initiatives to make those industries better.
An approach for creating entirely new clusters in a region is a strategy to improve overall business environment conditions by upgrading skills, access to finance and infrastructure, streamlining government rules and regulations and supporting local demand.
Clusters consist of companies, suppliers and service providers, as well as government agencies and other institutions that provide education, information, research and technical support to a regional economy.
They help create a competitive advantage for the related firms in a particular region. This advantage then becomes an enticement for similar industries and suppliers to those industries to develop or relocate to a region.
Developing industry clusters has become a key goal for economic development as they have been shown to strengthen competitiveness by increasing productivity, stimulating innovative new partnerships, even among competitors, and presenting opportunities for entrepreneurial activity.
Creating large industrial groups
Each of the five companies which signed investment contribution agreements on Monday has an established industrial jurisdiction in a particular geographical locality in Iran.
Chadormalu Mining and Industrial Company in central Yazd is the main iron ore concentrate producer in the Middle East. It is based close to a constellation of heavy industries such as steel, automotive and refining plants in Isfahan, Shiraz and Kerman.
Machine Sazi Arak is an Iranian manufacturing corporation established in Arak – nicknamed as the "industrial capital of Iran" – with the aim of supporting underlying industries and meeting the industrial needs of the country.
Al Mahdi Aluminum Complex in Bandar Abbas in the Persian Gulf accounts for 60 percent of Iran's production of aluminum ore. The $1.6 billion agreement signed with the company Monday calls for investment in downstream industries for higher value-added production and localization of industrial machinery, provincial industry, mine and trade head Khalil Qassemi said.
Shirin Asal Food Industrial Group is based in the northwestern city of Tabriz, known as the capital of Iran's food industry. The company is involved in cultivation in Africa and elsewhere under Iran's strategic food security policy.
Sepahan Oil Company in the central city of Isfahan is the largest producer of base oil in the Middle East. The company is also one of the main producers of diesel and engine oil in the Mideast.
Iran's state planners believe that the absence of large industrial groups is a key missing link, which with increased R&D intensity can be driven towards new heavy industries, including the country's sprawling petroleum and petrochemicals, car manufacturing, shipbuilding, electronics and other fields and fire up its economy, besides playing a buffer against foreign pressure.
Zarandi cited the example of South Korea where 10 leading industrial groups such as LG, Lotte and Samsung play a key role in the country's and world's economy.
Samsung which started life as a grocery trader in 1938 is now South Korea's largest group, operating in industries as diverse as electronics, insurance, construction and shipbuilding. In 2018, it produced roughly 15% of the nation's gross domestic product.
In Turkey as well, 10 brands have been targeted to become world leaders in a variety of industries, according to Zarandi.
Knowledge-based start-ups
In recent years, the number of knowledge-based enterprises has increased in Iran, making crucial contribution to breaking some fetters of the US-led sanctions.
According to a local car manufacturer, 154 major auto parts have been internally produced with the help of knowledge-based enterprises, saving the country some 400 million euros in foreign exchange. Iranian automakers are on target to produce more than 1.3 million cars this year, marking a 50 percent jump in production in the face of US sanctions, a deputy industry minister has said.
Vice President for science and technology Sorena Sattari has said that a knowledge-based economy can change the future of the country. Sattari is an architect of Iran's push to transform its resource-centered economy to a tech-based economic jurisdiction.
"Fortunately, many officials have come to the conclusion that the country cannot be run by selling raw materials and underground resources," he has said.
Iran has a key advantage through its enormous human resources. The country prides itself as the fourth country in the world in terms of engineering graduates, with a pool of 5 million engineers providing it a powerful ground to build a knowledge-based economy.
One success story is Mapna, a power and infrastructure group which is being billed as the Iranian Siemens. It is the largest contractor for steam, gas and combined cycle and renewable power plants in Iran and has carried out major projects in the Middle East and beyond.
Last month, Mapna Group CEO Abbas Aliabadi said the company has built 5,000 megawatts of thermal power plants across the world and begun manufacturing hydrogen-fueled turbines.
"Mapna has defeated the world's greats in the power plant construction in price and quality, because it has been able to offer world-class equipment at a lower price to the international market."