Iran
Iran tells Armenia, Azerbaijan region cannot afford another war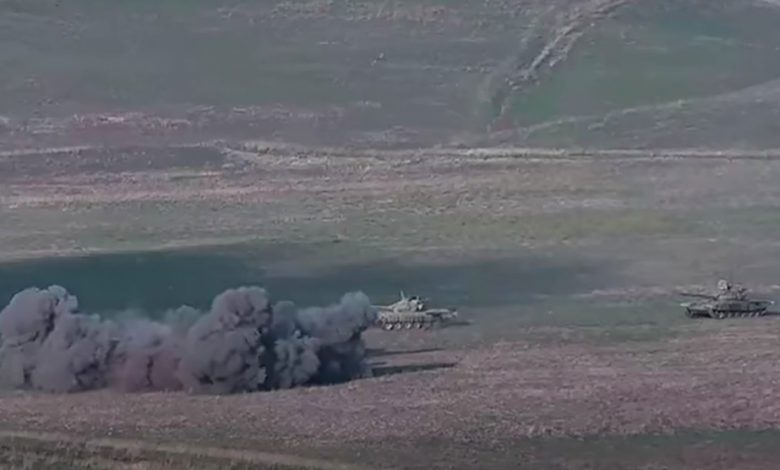 Iran says the region cannot take any more of the type of the conflict that has perilously flared up between Azerbaijan and Armenia over Karabakh.
Foreign Ministry spokesman Saeid Khatibzadeh made the remarks on Monday as Armenian and Azeri forces exchanged fierce fire for a second day amid reports of scores of deaths and hundreds of people being wounded.
"We cannot tolerate the continuation of a military conflict in our borders, and will do our utmost to ensure calm in the region," he said.
On Monday two more rockets landed near homes in a farm on the border region of Khoda-Afarin in northwest Iran.
Meanwhile, Azerbaijan's president declared a partial military mobilization.
Interfax news agency quoted an Armenian defense ministry representative as saying 200 Armenians had been wounded.
The Armenian-backed forces in Karabakh reported that 15 more of their fighters had been killed in overnight clashes. They had said on Sunday 16 of their forces had been killed and more than 100 wounded.
Khatibzadeh said the Islamic Republic had asked the two sides to end fighting as fast as possible and enter negotiations to find a solution.
"Military solution does not amount to a sustainable settlement for this decades-long conflict," Khatibzadeh said, adding, "Unfortunately, civilians are the main victims."
The fresh flare-up is due to the failure of diplomatic negotiations within the framework of the Organization for Security and Cooperation in Europe (OSCE) Minsk Group, led by France, the US and Russia.
The key sticking point is Azerbaijan's demand that Armenia withdraw its military forces from Karabakh and let Azeris return to their homes, while Yerevan is apparently satisfied with the stalemate because it allows the status-quo to continue.
Karabakh is internationally recognized as part of Azerbaijan, but it has an Armenian population because ethnic Azeris fled the territory in 1992 when separatists seized it in a move supported by Yerevan after the collapse of the Soviet Union.
The new clashes, the heaviest since 2016, have rekindled concern over stability in the South Caucasus region, a corridor for pipelines carrying oil and gas to world markets.
Khatibzadeh said Iran monitors the situation very closely, is in constant contact with the parties to the conflict, and invests all in its power to help remedy the situation.
'Trump lacks correct understanding of intl. relations'
Khatibzadeh also addressed US President Donald Trump's recent conflicting accounts about what he has called future talks with the Islamic Republic.
Trump has notoriously alleged that he would reach a quick deal with Iran upon potential reelection. More recently, though, he alleged that coming to such a post-election agreement with Tehran would be tough.
"Mr. Trump lacks all correct understanding of the nature of the international relations," Khatibzadeh said. "He should first make up his mind about whether he seeks to reach a deal with Iran in half a day or that this would essentially be a difficult task."
Neither are Trump's advisors blessed with a decent understanding of the things that have come to pass, Khatibzadeh added.
The spokesman was apparently referring to the fact that the US unilaterally left the negotiation table with Iran and others in 2018 after quitting a multilateral nuclear accord, and returning the sanctions that the deal had lifted.
"There neither is, was nor will be any talks," he said, adding reports about either underway or potential US talks are accounts that simply serve Washington's own domestic needs.
Khatibzadeh said it is only after Washington's return to the nuclear deal, its removal of sanctions on Tehran, and making up for the damage it has caused to the Iranian nation through the coercive measures that Tehran might consider the US request for negotiation.