Iran
Iran to Equip Navy with Flying Boats, New Destroyer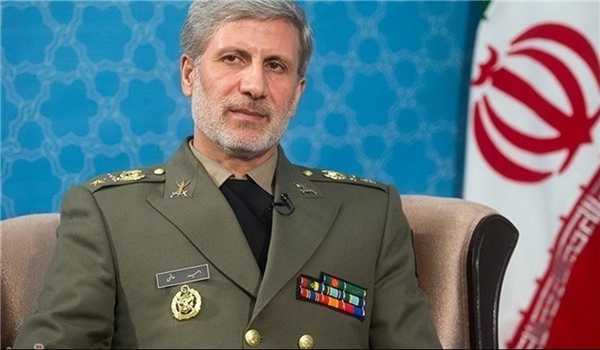 Iran's Defense Minister Brigadier General Amir Hatami said the country's Army will be equipped new hi-tech weapons systems and vessels, including a destroyer, a mine-hunting warship and flying boats, in the next few months.
"Last year we tried to preserve and stabilize this situation. 1398 (March 21, 2019-March 20, 2020) was a special year for us as we had a lot of ups and downs which had begun since 1397 and our enemies were hell-bent to bring insecurity inside the soil of the Islamic Republic. Yet, we strongly responded all their measures and the enemy noticed that it cannot challenge Iran's deterrence power through proxy works," Brigadier General Amir Hatami said.
Pointing to the growing trend in the domain of arms and equipment, Amir Hatami reiterated, "The year 1398 was among the honorable years of the defense industry. In the defensive field we put into effect two great works, namely, Khordad 15 Site and Baavar 373 as a turning point."
General Hatami continued, "In the missile field we announced decisively that all missiles of the Islamic Republic of Iran, both those that had been produced previously or the ones that have recently been produced, have become precision-guided."
Referring to designing, manufacturing and flying of Kowsar training jet in last year, he said, "We continued the production line of Kowsar and, God willing, we will have a few products of Kowsar in the current year."
Iran's defense minister, mentioning some of the achievements in the ground field, such as Ra'd, Tufan and Aras, added, "In sum, we had conducted 152 research works and, while the enemy, employing maximum pressure, was trying to prevent us from reaching our goals, thank God, the 152 projects were totally attained."
General Hatami informed of two to three good products in the marine field in the year 1399 that has just started (March 21), and said, "The destroyer Dena and a mine-hunting warship will be delivered to the army, God willing; and in the field of flying boats and speed boats there will be good tidings."
He went on to say that in the cruise domain we will have air-based cruise, adding, "As for the movability of cruise missiles, i.e. shooting while moving, a very good work is underway which is very important and in the year 1399 we will witness it."
General Hatami referred to the new breakthroughs in the field of ground combat, and said, "In the field of ground combat a good package will be prepared in arming of helicopters. We will increase their anti-armor range and will promote the capability of flight and operation in night."
Tehran launched an arms development program during the 1980-88 Iraqi imposed war on Iran to compensate for a US weapons embargo. Since 1992, Iran has produced its own tanks, armored personnel carriers, missiles and fighter planes.
Yet, Iranian officials have always stressed that the country's military and arms programs serve defensive purposes and should not be perceived as a threat to any other country.