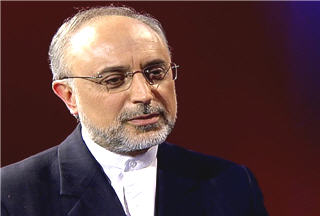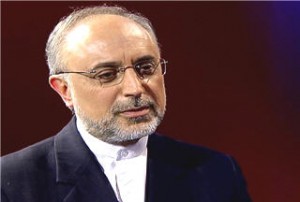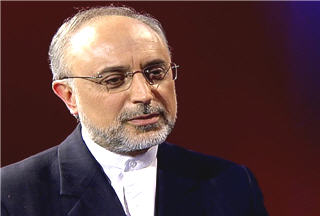 Atomic Energy Organization of Iran (AEOI) Director Ali Akbar Salehi says Iran will inform the UN nuclear watchdog of the decision to start enriching uranium to 20 percent to meet the requirements of the Tehran research reactor.
"We have written a letter to the International Atomic Energy Agency (IAEA) to announce our intention to enrich uranium to 20 percent. We will send this letter to the world's atomic watchdog on Monday and then start enrichment on Tuesday in the presence of inspectors and observers from the IAEA," Salehi told the Arabic-language Al-Alam television network on Sunday night.
As previously announced, Iran is able to produce the nuclear fuel it requires, he added.
"Earlier, we made it known that Iran has a preference to buy fuel for the Tehran research reactor from abroad. The results were very disappointing since they were not willing to cooperate with us in this area," he pointed out.
"The basis for the proposal was to open the door to cooperation rather than confrontation. We waited for more than seven months and today (Sunday), President Mahmoud Ahmadinejad ordered the AEOI to begin production of 20-percent [enriched] uranium that can be used to power the Tehran medical reactor," he added.
In a speech at an exhibition on laser technology broadcast live on state television on Sunday, Iranian President Mahmoud Ahmadinejad blamed the major powers for the impasse over the nuclear fuel deal.
"I had said, 'Let us give them two to three months, and if they don't agree, we will start ourselves,'" he said.
"Now Dr. Salehi, start to make the 20-percent nuclear fuel with the centrifuges," he told the AEOI director, who was in the audience.
However, Ahmadinejad maintained that Iran is still prepared to join other countries in a UN plan to export its uranium abroad for additional enrichment.
Salehi said Tehran's nuclear reactor produces medical radioisotopes for about a million Iranian nationals who need them for treatment for cancer and other serious diseases.
Iran says that as a signatory to the nuclear Non-Proliferation Treaty, it is entitled to the peaceful application of nuclear energy.
The country expects to generate 17.5 percent — 20,000 megawatts — of the country's electricity demand through nuclear energy over the next two decades.
Over the years, Washington and its allies have accused the Islamic Republic of pursuing a military nuclear program.
However, the IAEA has conducted numerous inspections of Iran's nuclear facilities and has found no evidence of the diversion of nuclear material.