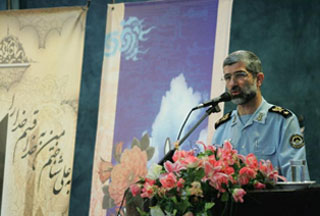 Iran is scheduled to launch a large-scale joint aerial defense maneuver in an attempt to prepare itself for any potential attack against the country.
The country's biggest exercise, dubbed 'Asemane Velayat 2′, will begin on Sunday November 22, said the head of the air-defense headquarters of Iran's armed forces.
The five-day maneuver is aimed at developing the country's aerial defense against any potential attacks — especially on the country's nuclear plants.
"The large scale exercise will start tomorrow and will be carried out in three phases over a five-day period," said Brigadier General Ahmad Miqani on Saturday.
He added that the maneuvers will cover a vast area in the northwest, west, south and southwest of the country.
Both the Islamic Revolution Guards Corps and Iran's regular armed forces will participate in the exercises.
The senior commander went on to say that Iran has all the necessary information about the enemies' equipment.
"We are also fully able to analyze the data," he added.
According to Miqani, enemies will find it impossible to violate Iranian airspace.