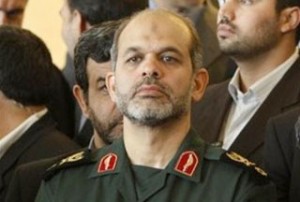 All missiles tested in Iran's recent naval drill have been built domestically and will be soon mass-produced, the country's defense minister says.
Brigadier General Ahmad Vahidi said Monday that the main objective of the military exercise by the Islamic Revolution Guards Corps (IRGC) in the Persian Gulf and the Strait of Hormuz was to test coast-to-sea and sea-to-sea cruise missiles, drones and electronic warfare systems.
Speaking on the sidelines of the last round of the 'Great Prophet V' maneuvers, the minister told Fars News Agency that smart weapons fired in the drills simultaneously and successfully hit their targets by using laser technology.
General Vahidi said the missiles — Nasr, Nour, Saeqeh, Fajr III and Fajr V missiles — have high precision and a range of 45 km (28 miles) to 300 km (186 miles).
"The arrogant powers should come to realize that Persian Gulf littoral states do not need the presence of foreign forces in the region," he said.
Last Thursday, the IRGC launched a massive military exercise to highlight the country's defense capabilities and its determination to safeguard regional security.
The drills coincided with the 31st anniversary of the establishment of the IRGC.