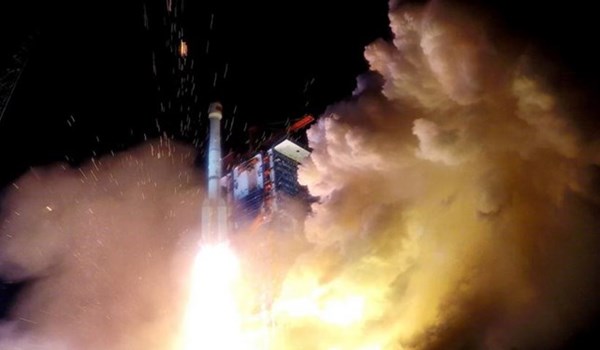 Head of the Iranian Space Agency (ISA) Morteza Barari said on Wednesday that his country will soon send 3 new satellites into orbit, boasting that the US sanctions against Tehran have failed to block Tehran's access to the complete cycle of space technology.
Speaking at a meeting on Space-based entrepreneurship here in the capital this morning, Barari boasted his country's advancements in the field of aerospace and space technologies.
The official reminded that Iran launched 2 satellites last year, adding that Tehran is determined to send 3 new satellites into orbit by the end of the current local calendar year on March 20, 2020.
He said that the 4th industrial revolution is taking place, adding that Tehran is sparing no effort to create 500,000 new jobs based on space-related technologies.
Last month, Scimago Institutions Rankings, a science evaluation source to assess worldwide universities and research-focused institutions, reported that Iran ranked first in the Middle-East in the development of aerospace engineering in 2018.
Aerospace engineering is the primary field of engineering concerned with the development of aircraft and spacecraft. It has two major and overlapping branches of aeronautical engineering and astronautical engineering.
Based on the report, Iran stood atop the Middle-Eastern states in aerospace engineering with 486 documents, 441 citable documents and 516 citations in international papers.
The report added that Iran has outpaced Turkey, Israel (Occupied Palestine), Saudi Arabia, Egypt, Iraq, the UAE and Jordan in aerospace engineering in the Middle-East in 2018.
Iran is one of the 9 states building satellites beside the US, Russia, Europe and Canada.
Iran in February 2017 unveiled two new home-made satellites of Nahid 1 and Amir Kabir as well as a space tug built for the first time in the country.
The three space crafts were unveiled in a ceremony participated by Iranian President Hassan Rouhani in Tehran on the occasion of the Space Technology Day in Iran.
Nahid 1 is a telecommunication satellite built in the Iranian Space Research Center.
Payam-e Amir Kabir has been designed and built in Amir Kabir University of Technology and is capable of taking images with a precision better than 40 meters.
Meantime, Saman 1 space tug which has been manufactured for the first time in the country is used to transfer the satellites from Low Earth orbit (LEO) to higher-energy orbits.
Also, Head of Iran's National Space Center Manouchehr Manteqi announced in October that the country planned to cooperate with Russia in sending men into space for the first time.
"Because sending human being into space needs lots of expenses, and different countries use each other's possibilities, and at present, Russia's possibilities are almost complete, we have decided to do the mission in cooperation with Russia," Manteqi told reporters in Tehran.
Iran has previously sent Simorgh satellite and Pajouhesh explorer into the orbit in recent years.