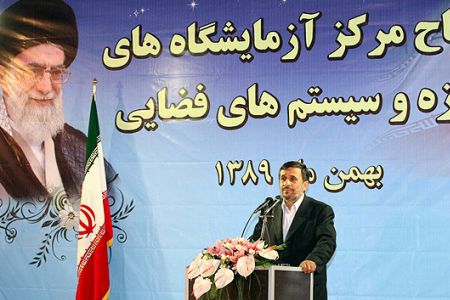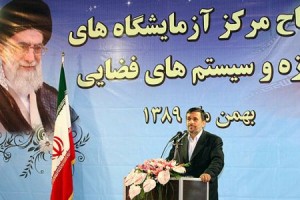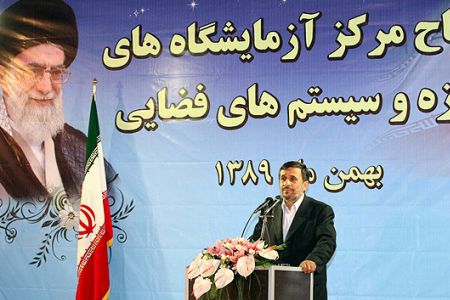 Iranian President Mahmoud Ahmadinejad says the Islamic Republic will send a man to space by 2021, calling for national support for the country's space scientists.
He made the remarks on the sidelines of the inauguration ceremony of a number of laboratories for testing space structures and systems on Sunday, Fars news agency reported.
The labs opened ahead of the Ten Days of Dawn (February 1-10) celebrations, marking the victory of the 1979 Islamic Revolution.
The president also urged the nation to support Iranian scientists to put satellites into orbit by 2021, noting that it can considerably improve the country's telecommunication sector.
In December, Iran's Communications and Information Technology Ministry announced that Tehran is on the right track in its plan to launch its first manned mission to space. In 2009, the country's Aerospace Organization kicked off a 12-year project to send an astronaut into space by 2021.
Iran launched its first domestically-produced satellite, dubbed Omid (meaning Hope in Persian), into space in 2009. Omid was put into orbit by the Iranian-produced satellite carrier Safir 2, which is an upgraded model of carrier Safir 1, which was launched in 2007.
Equipped with two frequency bands and eight antennas, Omid transmitted information to and from earth while orbiting the planet 15 times per day. The lightweight telecommunications satellite was equipped with remote sensing, satellite telemetry and geographic information system technology as well as remote and ground station data processing.
Omid is a research satellite that has been designed for gathering information and testing equipment. After orbiting the earth, Omid returned to earth with data that helped Iranian experts to send an operational satellite into space.
The Islamic Republic also unveiled its first major space center in 2008 with launching the first Iranian rocket, Explorer-1, into space.
In February 2010, Iran successfully test-fired the Kavoshgar-3, which carried one rodent, two turtles, and several worms into space and returned them to Earth alive.
Iran is one of the 24 founding members of the United Nations Committee on the Peaceful Uses of Outer Space, which was set up in 1959. To date, only eight countries have put domestically-made satellites into orbit.