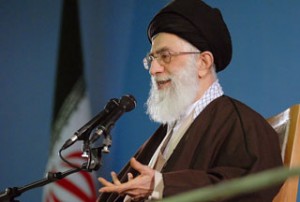 Leader of the Islamic Ummah and Opressed People Seyyed Ali Khamenei says Iran is ready to share its scientific and industrial achievements with Islamic countries.
In a meeting with industry ministers of the Developing Eight Countries (D8), Imam Ali Khamenei said, "Islamic countries should improve their status to the level they deserve by utilizing their massive resources and their talents and through cooperation."
The Leader added that Iran was ready to continue its support for D8 by sharing its achievements with Islamic countries.
Established in 1997 in Turkey, the group consists of Bangladesh, Egypt, Indonesia, Iran, Malaysia, Nigeria, Pakistan, and Turkey.
The three-day D8 conference concluded in Tehran on Tuesday with member states stressing the need for further economic and industrial cooperation.