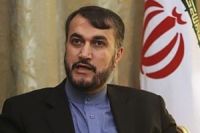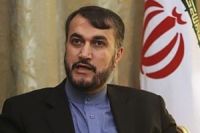 A senior Iranian diplomat says Iran will spare no effort to support Palestine and the Palestinian resistance movements.
According to Press TV, Iranian Deputy Foreign Minister for Arab and African Affairs Hossein Amir-Abdollahian made the remarks on Thursday in a meeting with Jamal Issa, a member of the political bureau of Palestinian resistance movement Hamas, who is on a visit to Iran at the head of a delegation.
The Iranian diplomat said the issue of Palestine and al-Quds has always been at the top of the priorities of the Islamic Republic of Iran's foreign policy "as the most pressing concern," and Iran has always had an established stance on resistance.
He added Iran has never been, nor will ever be, negligent in supporting Palestine and resistance movements.
Amir-Abdollahian stressed the fate of Palestine and al-Quds is of utmost significance to Iran, adding that the Islamic Republic will deploy its full capacity to counter the acts of aggression by Zionist regime of Israel.
The Palestinian official, for his part, expressed gratitude for Iran's support for the Palestinian cause, describing it as "unparalleled and invaluable." He added that Palestinian resistance movements feel proud of their strategic relations with Iran.