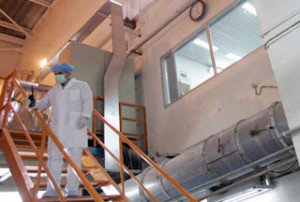 A senior advisor to President Mahmoud Ahmadinejad says the Iranian chief executive has approved the site for a new uranium enrichment plant.
"The president has confirmed the designated location of a new nuclear site and the construction process of the new site will begin upon the president's order," Mojtaba Samareh Hashemi told the Iranian Labor News Agency (ILNA) on Monday.
"The locations of new nuclear sites, which the Atomic Energy Organization of Iran (AEOI) plans to build this year, have been verified. The construction process of these sites is currently underway," he added.
AEOI Chief Ali Akbar Salehi announced in February that Iran would start the construction of two new enrichment sites by March 2011.
Iran at the same time began enriching uranium to the level of less than 20 percent for a nuclear research reactor in Tehran which produces medical isotopes is running out of fuel.
The decision was made after the West failed to respond to Iran's concerns over a UN-brokered nuclear fuel swap deal, which required Iran to send most of its low-enriched uranium abroad for further processing and conversion into fuel rods for the research reactor.
Iran agreed to the IAEA-backed proposal but said it needed guarantees that the other side would deliver the fuel in a timely manner.
Samareh Hashemi said Iran was still open to talks on the nuclear swap deal, adding that the domestic production of enriched uranium does not mean Iran will not import any fuel.
"The domestic production of nuclear fuel does not contradict importing it," he said.
"We have started to enrich uranium domestically based on our need to provide fuel for the Tehran research reactor and this process will continue until our needs are met."
Iranian Foreign Minister Manouchehr Mottaki said on Sunday that Iran plans to hold talks with all members of the United Nations Security Council over the nuclear fuel swap deal.
The US and its allies accuse Iran of seeking nuclear weapons.
Iran denies the allegations and insists it has the right to pursue peaceful nuclear technology as a signatory to the Nuclear Non-Proliferation Treaty and a member of the International Atomic Energy Agency.