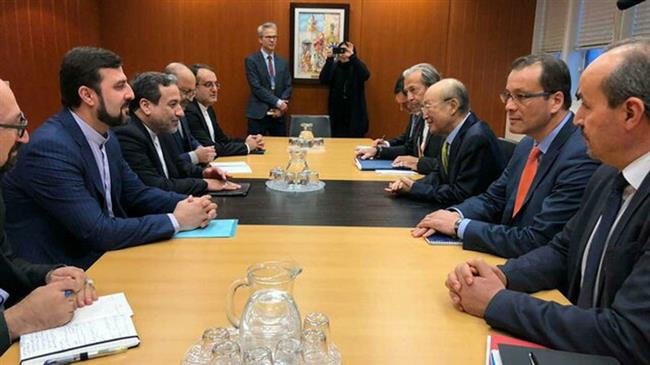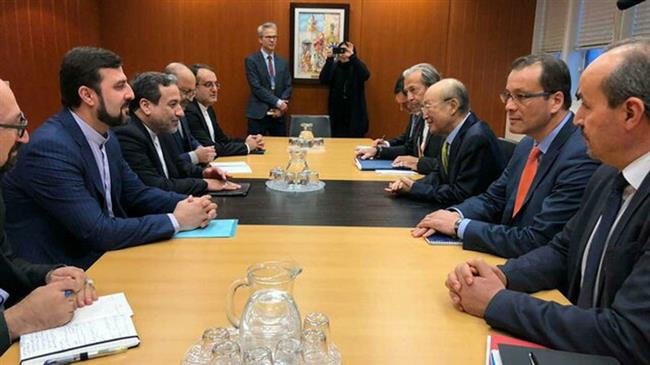 After meeting with the UN nuclear watchdog's chief, an Iranian deputy foreign minister reiterates the country's stance that it will remain committed to its 2015 nuclear agreement with world countries if the deal serves its interests.
"What matters to us is to make sure that staying in the accord is in the interest of our country," Deputy Foreign Minister for Political Affairs Abbas Araqchi said in Vienna on Monday.
"Iran will remain committed to the nuclear deal if the remaining signatories to the JCPOA abide by their commitments," he noted, referring to the accord by the acronym of its official name, the Joint Comprehensive Plan of Action.
Araqchi also said that Tehran is willing to preserve the JCPOA despite the United States withdrawal from the deal and its restrictive measures against the Islamic Republic.
The official, who is in Vienna at the invitation of his Austrian counterpart Johannes Peterlik, had earlier met with Yukiya Amano, the director general of the International Atomic Energy Agency (IAEA).
During the meeting, he consulted with Amano about the latest state of Tehran's cooperation with the IAEA.
He said the Islamic Republic expected that the watchdog continues to act impartially and professionally, retaining its independence in the face of disruptive external pressure.
Amano, for his part, expressed satisfaction concerning the level of cooperation between his organization and Iran in the implementation of the nuclear deal, and hoped that the cooperation continues.
Separately, Araqchi voiced hope that the European Union, which coordinated the talks leading to the deal, heeds its "momentous historical" duty towards the accord, and restores the balance lost between the commitments and dividends associated with it "as soon as possible." Otherwise, he said, there would be no reason for the Islamic Republic to keep honoring the agreement.
The agreement was signed between Iran and the P5+1 group of countries — the United States, the UK, France, Russia, and China, plus Germany — in the Austrian capital after marathon negotiations. It removed nuclear-related sanctions against Iran, which, in turn, changed certain aspects of its nuclear energy program.
The IAEA has, so far, endorsed Iran's commitment to the JCPOA on 13 occasions.
The US, however, unilaterally left the deal last May, although the agreement has been ratified in the form of a United Nations Security Council resolution. It later reintroduced the sanctions that had been relieved under the deal.
The EU is working on a mechanism to facilitate financial transactions between Iran and European enterprises despite the American bans.
Also on Monday, German Foreign Minister Heiko Maas said consultations continued among his country, France, Britain, and the EU concerning the special purpose vehicle (SPV) mechanism, adding it will be established soon.