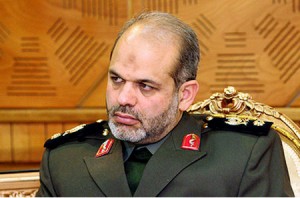 Iran is to test a new anti-aircraft defense system during a five-day aerial maneuver, the Iranian defense minister has said.
The large-scale maneuver, which was launched on Sunday, is mainly aimed at developing the country's aerial defenses against any potential attack on the country's nuclear plants.
"The Defense Ministry's new anti-aircraft defense system will be tested in the Aseman-e-Velayat 2 maneuver," Defense Minister Ahmad Vahidi said on Sunday.
The Aseman-e-Velayat 2 is said to be Iran's biggest military drill to date.
He also said that while Iran would pursue a long-stalled deal with Russia over the delivery of the S-300 surface-to-air missile system, the Iranian Defense Ministry plans to design and build its own air defense system.
Russia and Iran clinched a deal on the sale of S-300 system in December 2007. Unofficial reports claim that the Russian-Iranian contract on the sale of the S-300 missiles to Iran is worth $800 million.
However, Russia has repeatedly delayed the delivery of the sophisticated S-300 missile defense system, a mobile land-based system designed to shoot down aircraft and cruise missiles.
Earlier in November, Vahidi criticized Russia over its repeated delays, saying Moscow had a "contractual obligation" to provide Iran with the system.
Russia is also running behind schedule in the launch of the Bushehr nuclear plant in southeastern Iran.
The plant was originally scheduled to be completed in 1999 but its completion has repeatedly been delayed, and even after ten years, Moscow is still postponing the launch of the facility.
Russia has cited 'technical' issues as the reason for the delays, ruling out that the decision was politically-motivated.