Iran
Middle East
Science
Technology
Iran to unveil 112 new nuclear achievements in April: AEOI
The spokesman for the Atomic Energy Organization of Iran (AEOI) says the Islamic Republic will unveil 112 new nuclear achievements in April.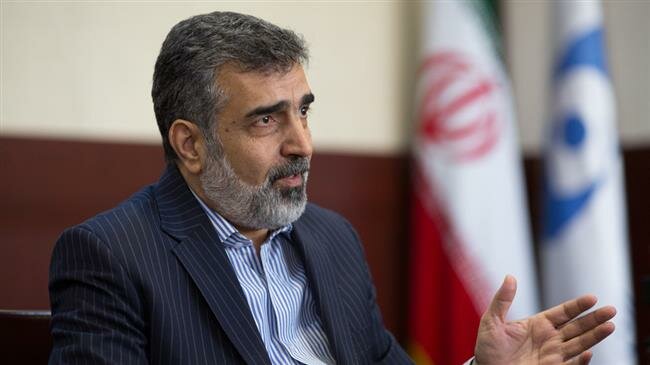 Speaking to reporters in Tehran on Saturday, Behrouz Kamalvandi described the achievements as "very important," saying they would cover various fields, including exploration, extraction, fuel cycle, power plants, science and technology as well as laser.
The achievements would be unveiled on Iran's National Nuclear Technology Day on April 9, he said.
"The unveiling of these achievements under the country's current circumstances will convey this message to enemies that the Iranian nation has resisted economic sanctions and has turned threats into opportunities," the official said.
After its failure in military war, the US waged a full "economic war" against Iran and currently resorts to sanctions to exert pressure on Tehran, the AEOI spokesman emphasized.
"In this war, the US puts pressure on all of its allies and non-allies to stop their economic relations with Iran; however, the Iranian nation will strongly pass this phase as well," Kamalvandi pointed out.
He noted that Iran should make utmost use of its capabilities to counter the economic war and neutralize their pressure.
US President Donald Trump withdrew Washington in May last year from the landmark Iran nuclear agreement, known as the Joint Comprehensive Plan of Action (JCPOA), reached between Iran and the P5+1 group of countries in 2015, and decided to re-impose unilateral sanctions against Tehran.
Under the deal, Iran undertook to put limits on its nuclear program in exchange for the removal of nuclear-related sanctions.
Trump's administration announced re-imposition of the "toughest" sanctions ever against Iran's banking and energy sectors with the aim of cutting off the country's oil sales and crucial exports.
Despite Washington's withdrawal, Iran has not left the deal yet, but stressed that the remaining signatories to the agreement have to work to offset the negative impacts of the US pullout for Iran if they want Tehran to remain in it.
This comes as earlier this month the head of the International Atomic Energy Agency (IAEA) once again reaffirmed Iran's compliance with its nuclear-related commitments under the JCPOA.
"Iran is implementing its nuclear-related commitments under the Joint Comprehensive Plan of Action," Yukiya Amano said in his introductory statement to the IAEA's Board of Governors in Vienna on March 4.