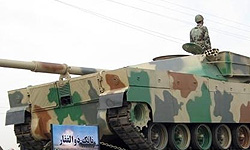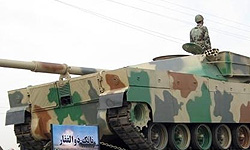 The Iranian Army announced on Tuesday that it plans to unveil an upgraded version of its main battle tank, Zolfaqar, next month.
"Army's Ground Force has carried out ample research and studies for upgrading the technology and applications of Zolfaqar tanks, and the updated version of the tank will be unveiled in the (Iranian) month of Khordad (May 22-June 21)," Commander of the Iranian Army Ground Force Brigadier General Ahmad Reza Pourdastan said in an exclusive interview with FNA today.
"Fire navigation system of the new Zolfaqar tank has been updated and Laser systems have been mounted onto the tank," Pourdastan said, adding, "These upgrades have remarkably increased the tank's operational capabilities."
Zolfaqar is a second generation of Iran's main battle tank (MBT). The test prototypes of the tank were evaluated in 1993. Six semi-industrial prototypes of the tank were produced and tested in 1997.
The tank has a distinctive box-shaped, steel-welded turret of local design. Zolfaqar combat weight is reported to be 36 tons and has a 780 hp diesel engine; the tank has a 21.7 hp per ton ratio.
The Zolfaqar is operated by a crew of three personnel. The automatic loader is believed to be the same one from the T-72 tank.
The tank is armed with a 125 mm smoothbore gun 2A46, which is fitted with a fume extractor. Its secondary armament consists of a 7.62 mm coaxial and a 12.7 mm machine gun. For the Zolfaqar fleet, the Ammunition Group of the Iranian Defense Industries Organization mass produces a standard high explosive 23 kilograms (51 lb) propellant charge which fires the 3 kg warhead at a muzzle velocity of 850 meters per second (2,800 ft/s).
The Zolfaqar-1 uses a fire control system which enjoys a 'fire-on-the-move' technology. The Zolfaqar mounts a laser-warning pod on the turret. Its design enables the tank to use an Iranian-made package of reactive armor.
Zolfaqar-2 is a prototype tank used as a test bed. The Zolfaqar-3 also features considerable upgrades to the fire control system, chassis, engine and main gun, with a 125mm autoloader. The Zolfaqar-3 is believed to be available for export by 2010.