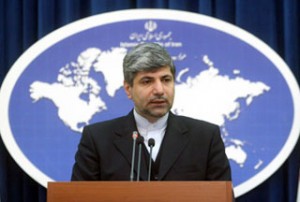 After several hours of intense negotiations, the trilateral meeting between Iran, Brazil and Turkey ends with Tehran agreeing to ship its domestic low-enriched uranium to Turkey.
Iranian Foreign Ministry Spokesman Ramin Mehmanparast said Monday that the Tehran government has agreed to a draft proposal whereby Iran will send some 1200 kg of its 3.5 percent enriched uranium over to Turkey in exchange for a total of 120 kg 20 percent, Press TV reported.
The International Atomic Energy Agency (IAEA) will officially receive a letter with regards to the swap deal "within a week".
According to a Press TV correspondent, the swap will take place nearly a month after receiving official approval from the Vienna Group, which consists of representatives from Iran, France, Russia and the US and the IAEA.