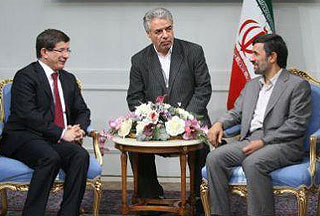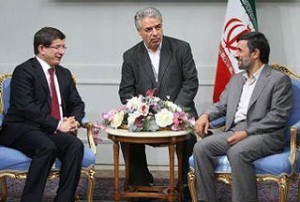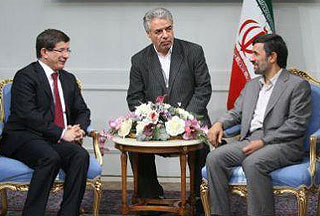 Turkish Foreign Minister Ahmet Davutoglu says Ankara supports Iran's call for total nuclear disarmament.
"Turkey, like Iran, wants all nuclear weapons to be eradicated from the world and especially from the [Middle East] region, and the recent conference in Tehran can be an important step for realizing this goal," Davutoglu said during a meeting with Iranian President Mahmoud Ahmadinejad in Tehran late on Tuesday.
Iran held a nuclear disarmament conference in Tehran from April 17 to 18 that brought together representatives from 60 countries.
Ahmadinejad said, "Tehran and Ankara can play a key role in regional and international developments by enhancing their cooperation and consultation."
"The enhancement of ties between Iran and Turkey will serve the interests of the two nations and will help establish security and stability in the region," IRNA quoted the Iranian president as saying.
Ahmadinejad stated that Iran and Turkey and other independent countries in the region should make joint efforts to totally eradicate nuclear weapons.