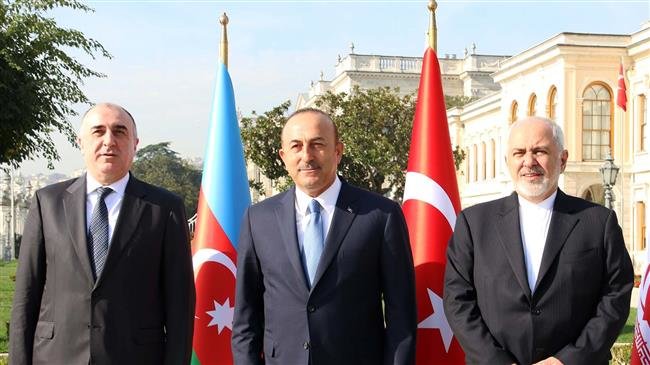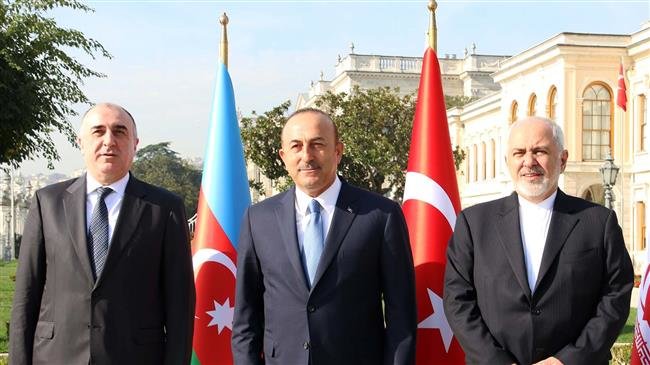 Iranian, Turkish, and Azerbaijani foreign ministers have held their sixth trilateral meeting in Istanbul, Turkey, to discuss matters of common interest.
The meeting was held among Mohammad Javad Zarif of Iran, Mevlut Cavusoglu of Turkey, and Elmar Mammadyarov of Azerbaijan at the historic Dolmabahce Palace in Istanbul on Tuesday.
The meeting was held behind closed doors, but the top diplomats were expected to hold a press conference later.
Earlier reports had said the meeting would be focusing on a wide scale of economic, commercial, and technical issues. In the economic area, the ministers were expected to address such issues as transit, transportation, energy, and customs.
Issues concerning political and regional cooperation, especially further contribution to regional peace and stability, were also reportedly on the gathering's agenda.
Prior to the meeting, Zarif held bilateral talks with his Turkish and Azeri counterparts.
The last three-way meeting of the type was held in the Azeri capital of Baku late last year, and the one before that in the northern Iranian city of Ramsar in April 2016.
The Iranian foreign minister arrived in Istanbul on Monday, also attending the inauguration ceremony for Turkey's newest airport in the city.