Iran
Iran unveils copied US RQ-170 stealth drone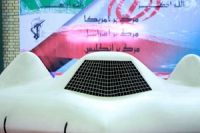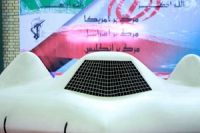 Iran has unveiled a domestically produced version of a sophisticated US drone it captured back in 2011.
According to Press TV, the stealth drone was unveiled in an exhibition at the Islamic Revolution Guards Corps (IRGC) Aerospace Forces' Central Command, attended by the Leader of the Islamic Revolution Ayatollah Seyyed Ali Khamenei.
Other Iranian drones, including Shahed 129 and 125, were also on display at the exhibition.
The expo put on display the achievements of the IRGC Aerospace Forces in the design and development of drones, radars and defense systems as well as anti-ship, ballistic and anti-shield missile systems.
The US RQ-170 Sentinel was reverse-engineered by IRGC experts in about two years.