Iran
Iran Unveils New Home-Made Cruise Missiles, Drones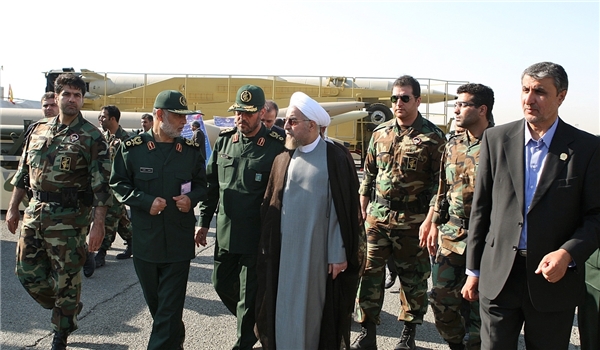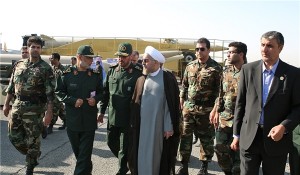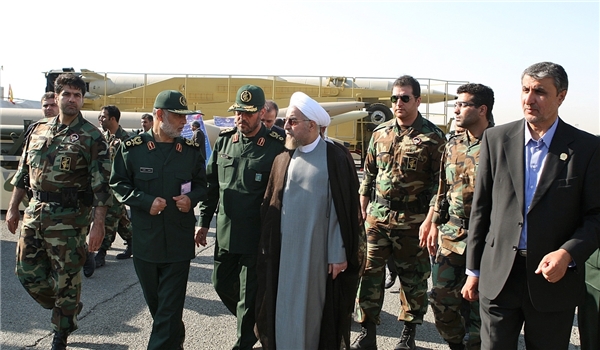 The Iranian Armed Forces unveiled their latest indigenized achievements in building cruise missiles and Unmanned Aerial Vehicles (UAVs) in a ceremony in Tehran on Sunday participated by President Hassan Rouhani and Defense Minister Brigadier General Hossein Dehqan.
The new defensive products include two cruise missiles named Qadir and Nasr-e Basir as well as an interceptor drone, Karrar 4, and another drone used by photogrammetry missions called Mohajer 4.
Qadir is a new generation of cruise missiles capable of destroying marine targets with high precision and power within the range of 300km. It can be fired from coasts and vessels both.
Nasr-e Basir marine cruise enjoys high agility and operational power with its central explorer warhead finding targets through a smart program, and it conducts its mission noise-free.
Karrar 4 is a new generation of Iranian drones equipped with jet engines which can intercept hostile aircraft and the Iranian Armed Forces say that it increases their air defense power in high altitudes.
Mohajer 4 is an advanced drone used for photogrammetry (the science of making measurements from photographs) providing operators with aerial maps with military and civilian applications.
In recent years, Iran has made great achievements in the defense sector and gained self-sufficiency in essential military hardware and defense systems.
The country has repeatedly made it clear that its military might is merely based on the state's defense doctrine of deterrence and that it poses no threat to other countries.
In March, the Iranian defense ministry started the mass-delivery of different ballistic missiles, including Qadr, Qiam, Fateh 110 and Khalij-e Fars missiles, as well as Mersad air defense system to the IRGC and Khatam ol-Anbia Air Defense Base.
"The honorable specialists of the Defense Ministry's Aerospace Organization displayed the defense industry' power and capability in providing the Armed Forces' needs to the most advanced missile equipment by supplying them with Qadr, Qiam, Fateh 110 and Khalij-e Fars (Persian Gulf) ballistic missiles and Mersad air defense system and showed that the different and comprehensive sanctions of the enemies imposed strictly and specially on our defense sector have totally failed to undermine their resolve and determination," Dehqan said at the time, addressing a ceremony held to mark the delivery of the new missile systems to the IRGC and Khatam Ol-Anbia Air Defense Base.
"These missiles can strike and destroy enemy targets with a high precision capability and provide for a wide range of the Armed Forces' needs to missiles with different ranges," he added.
Dehqan underlined that all these missiles have been built by Iranian specialists, and said, "Today the Armed Forces enjoy such a high degree of defensive capabilities that they can counter back any kind of threat posed from beyond the borders of the Islamic Republic of Iran."
He also described enemies' threats of military action against Iran as media hype for internal use.
Qadr is a 2000km-range, liquid-fuel and ballistic missile which can reach territories as far as Israel. Qiam is also a new type of surface to surface and cruise missile.
The Fateh-110 is a short-range, road-mobile, solid-propellant, high-precision ballistic missile with advanced navigation and control systems.
The Fateh-110 has been designed and developed by the Iranian experts in the Defense Ministry's Aerospace Organization and has not been modeled on any foreign product.
The supersonic Khalij-e Fars (Persian Gulf) missile, which carries a 650-kilogram payload, is smart and immune to interception, and features high-precision systems.
The supersonic ballistic missile is the most advanced and most important missile of the IRGC Navy.
The distinctive feature of the missile lies in its supersonic speed and trajectory. While other missiles mostly traverse at subsonic speeds and in cruise style, Khalij-e Fars moves vertically after launch, traverses at supersonic speeds, finds the target through a smart program, locks on the target and hit it.
The range of the solid-fuel missile is 300km and it can be fired from triple launchers.
The missile could successfully hit a mobile target one-tenth of an aircraft carrier in its early tests.
Also, Mersad Air Defense Missile System is a completely indigenized system developed by the Iranian experts and technicians to promote the country's combat power.
The system has already passed field tests and is used as part of the country's integrated air defense network.
The Mersad system equipped with Shahin missiles is capable of tracing and targeting any enemy aircraft at 70 to 150km altitude and is considered as a mid-altitude system among the country's missile shields.