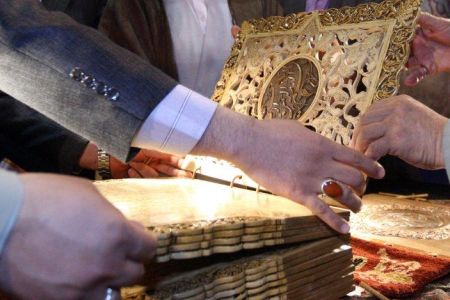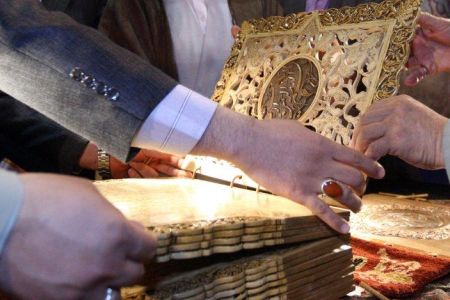 Iran has unveiled the world's first exquisite wooden Qur'an during a ceremony at the country's Ministry of Culture and Islamic Guidance.
The unique handicraft has been designed and made by Iranian artist Mohsen Fouladi and is adorned with pieces of stone, metal and silk.
"The work weighs between 10 to 12 kilograms and is 45cm long, 35cm wide and 15cm thick," Fouladi told IRNA.
The unveiling ceremony was attended by head of Iran's Cultural Heritage, Handicrafts and Tourism Organization (ICHTO) Hamid Baqaei, and the Deputy Culture Minister for Qur'anic affairs Hojjatoleslam Hamid Mohammadi.
The book contains 900 divine names and features a variety of scripts such as Naskh, Nasta'liq and Thuluth, Fouladi explained.
"It took me several years to do research and three years to complete the project with an average work of 12 to 17 hours per day," he said, adding, "The work is the first of its kind in the world and I hope it can be registered in the Guinness Book of Records."
The book is already registered by the National Library of Iran.
Fouladi said that if Iranian officials financially support the work, it can be internationally distributed within the next two years.