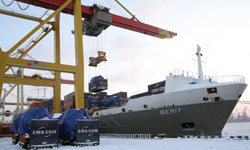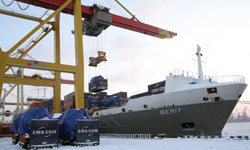 Director-General of Pars Special Economic Energy Zone Ahmad Pourheidar said Iran's exports via the energy zone have witnessed a remarkable growth both in terms of value and volume in recent months.
Pourheidar said that 1.11million tons of non-oil products have been exported via the region during the first nine months of the current Iranian year (March 21- December 21), adding that the figure shows a 161% increase compared with the same period last year.
He put the total value of non-oil exports from the zone at USD848.55 million, and said it shows a 202% growth.
As regards exports of gas condensate, Pourheidar said that USD677.98 worth of gas condensates has been exported via Pars energy zone during the same period, and noted that the volume shows a 274% increase in comparison with the same period last year.
Iran's President Mahmoud Ahmadinejad said in August that the oil-rich country is prepared to increase its non-oil exports to more than 45 billion dollars in the current Iranian year.
President Ahmadinejad went on to say that Iran's non-oil exports surpassed $30billion in the past year.
Iran's non-oil export items mainly include gas condensates, mineral fuels, chemical products, plastics, fruits, nuts, fertilizers and carpets.