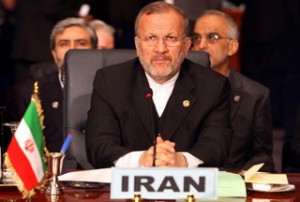 Iran's Foreign Minister Manouchehr Mottaki calls on Baghdad to extradite the wanted members of the Mojahedin-e Khalgh Organization (MKO).
In a meeting on Monday with the Iraqi ambassador to Iran Majid Sheikh, Mottaki said that considering the friendly relations between Tehran and Baghdad, the presence of the terrorist camp in Iraq was not appropriate.
The foreign minister said that there were criminals in the MKO who were wanted by Interpol, urging the Iraqi government to extradite such terrorists to Iran.
Late in July, Iraqi security forces stormed Camp Ashraf in Iraq's Diyala province near the Iranian border and shut it down. For years, Camp Ashraf had been housing some 3,500 members of the terrorist group.
Iraq is reportedly preparing to try 36 MKO members who were responsible for the recent unrest in Camp Ashraf, in the near future.
Tehran hailed the move as a step forward in relations between the two neighboring countries.