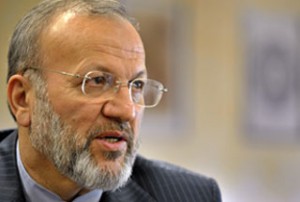 Amid weeks of hot debates about an IAEA-backed plan for Western nuclear cooperation with Tehran, Iran has called for a review of the draft.
"We have examined this proposal, we have some technical and economic considerations on that," Iranian Foreign Minister Manouchehr Mottaki told reporters in the Malaysian capital on Monday.
"Two days ago we passed on our views and observations to the [International Atomic Energy Agency] IAEA, so it is very much possible to establish a technical commission to review and reconsider stated issues," he said.
"In all circumstances, interests of the Islamic Republic of Iran should be taken into considerations," he added.
The draft, which had been backed by the United Nations nuclear watchdog, was based on an agreement between Russia and the United States.
The nuclear draft envisages Iran shipping out some portions of its low-enriched uranium (LEU) to be converted into metal fuel rods and returned to the country for the Tehran medical research reactor.
The Iranian minister dismissed any links between the purchase of 20 percent enriched uranium for the Tehran reactor and the issue of enrichment activities in Iran.
"Nuclear talks have been held only about supplying fuel needed for the Tehran reactor. Uranium enrichment for other reactors and supplying required fuel are not stopped," said Mottaki.
He reiterated that Iran would only give part of its enriched uranium in return for 20 percent enriched uranium should it agree to the IAEA-brokered deal.
"Our first request is based on the purchase of nuclear fuel for the Tehran reactor. However, production of 20 percent enriched uranium is also on the table if the sides do not reach an agreement," he said.
Mottaki added that Tehran wants more discussions on the deal.
Iran's answer to the UN-backed proposal, which is yet to be made public, signaled its firm belief that before any fruitful negotiation can be conducted and a thaw in relations between the West and Tehran can be seen, major trust-building steps must be taken.