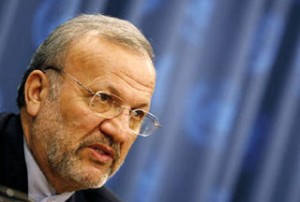 Iran's foreign minister on Tuesday called on the United Nations to press Israel over the fate of four of its nationals, including three diplomats, who were kidnapped in Lebanon and transferred to Israel in 1982.
Manouchehr Mottaki said UN actions have emboldened Tel Aviv to withhold information about the abducted diplomats.
Mottaki said Israel is responsible for their safety. He urged the UN to speed up efforts for the release of the diplomats.
Iran says it has evidence that shows the three missing diplomats and one photo-journalist are still alive and locked up in Israeli jails.