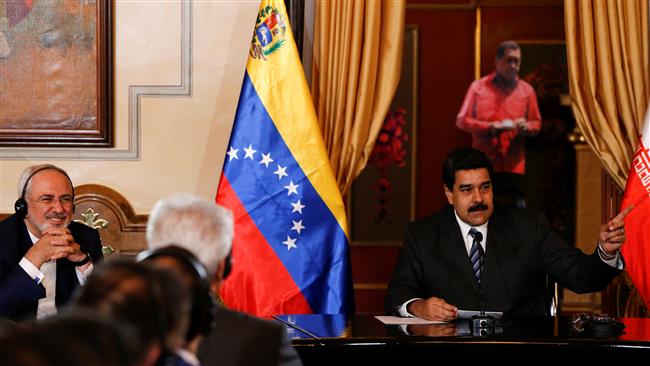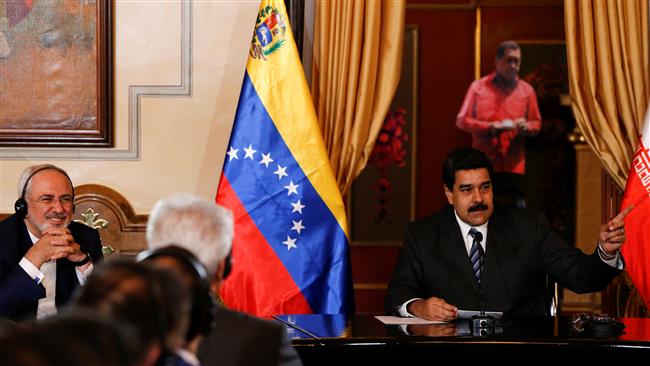 Venezuela's President Nicolas Maduro has described Iran as an "emerging power" in the world, stressing that the Islamic Republic uses its capacity to bring about peace for other nations.
Maduro made the remarks during a press conference following a meeting with visiting Iranian Foreign Minister Mohammad Javad Zarif in Caracas on Saturday.
He further said the late president Hugo Chavez had correctly predicted Iran's role as an emerging power in the 21st century both in the region and the entire world, underlining the need for strengthening strategic ties with Tehran.
Unlike the US and Western states that take advantage of their influence to wage wars and loot the resources of other nations, the Islamic Republic uses its power to promote peace, stability and development in other countries, Maduro said.
Highlighting Iran's deep-rooted civilization, Maduro said the Islamic Republic has a historic culture based on peace and behaves towards other nations based on humanitarian diplomatic efforts.
He further drew a parallel between Iran's Islamic Revolution and Venezuela's Bolivarian Revolution, saying that both of them support dialogue between cultures, diversity and stability as well as an independent, peaceful world without discrimination.
Iran has turned into a role model for other countries as it managed to resist foreign pressure and economic sanctions and secure its right to develop in different sectors, including peaceful nuclear energy, the Venezuelan president pointed out.
He further went on to say that the two countries would set up a joint technical commission tasked with monitoring the expansion of ties and the implementation of economic and trade deals.
Zarif, for his part, also expressed Tehran's readiness to deepen economic and trade relations with Caracas.
'Iran, Venezuela want closer friendship'
Earlier in the day, Zarif also took part in the joint Iran-Venezuela economic and trade summit, with his Venezuelan counterpart, Delcy Rodriguez.
During the summit, Iran's foreign minister underscored Tehran's determination to preserve its flourishing relations with Venezuela, saying the two nations should further bolster their ties through closer economic cooperation.
"The Iranian government and nation will keep up their strong and good relations with Venezuela as a country of resistance," which is a legacy of the late president Hugo Chavez.
Zarif further hailed the former Venezuelan leader for adopting "revolutionary" policies in the face of foreign pressure.
Tehran and Caracas "enjoy highly warm and cordial relations, which are rooted in the resilience and pro-independence policies of both nations," said Zarif, adding that the two sides should pursue "deeper, more strategic and more serious" ties.
Zarif arrived in Venezuela on Saturday on the last leg of his six-nation Latin American tour, which took him to Cuba, Nicaragua, Ecuador, Bolivia and Chile.
The top Iranian diplomat has traveled to the region at the head of a high-ranking politico-economic delegation, comprising 120 businessmen and financial executives from government and private sectors.
Elsewhere in his remarks, Zarif pointed to the presence of high-ranking Iranian officials from both government and private sectors in the delegation accompanying him, saying this shows Iran's willingness to enhance bilateral ties with Venezuela in different areas.
He further expressed hope that with the signing of an agreement between the two countries' central banks would pave the way for enhanced economic ties between the two countries.
In turn, Rodriguez, who is also President Nicolas Maduro's deputy, said the Iranian delegation's visit to Caracas shows the Islamic Republic's strategic relations with Latin American states, particularly Venezuela.
Remembering Chavez as the founder of Tehran-Caracas ties, she noted Maduro is set to follow in the footsteps of his predecessor and preserve good relations with Iran.
"We were seeking to reinforce ties and unity among the two countries," Rodriguez added. Iran and Venezuela are members of OPEC (Organization of the Petroleum Exporting Countries) and the Non-Aligned Movement and have common viewpoints on the strategic issues, she pointed out.
In an address to Zarif, the top Venezuelan diplomat also said, "Our country is your home and [you] are in your home."