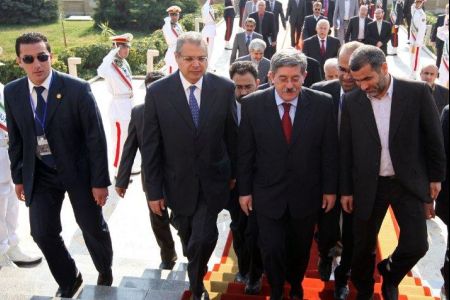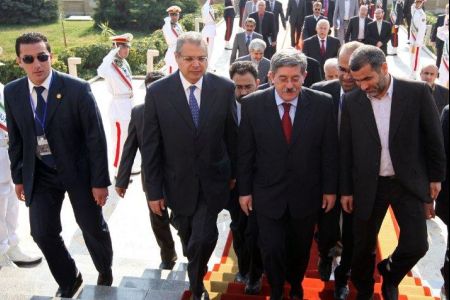 Iranian First Vice President Mohammad Reza Rahimi has called for the expansion of ties with Algeria, ahead of the first session of the two countries' joint commission in Tehran.
Rahimi made the remarks at a meeting with visiting Algerian Prime Minister Ahmed Ouyahia on Sunday.
He went on to say that the two countries enjoy great potential to expand their bilateral economic ties.
Ouyahia arrived in Tehran along with a high-ranking economic delegation to attend the meeting of the Iran-Algeria High Joint Commission. He was officially welcomed by the Iranian first vice president, Health Minister Marzieh Vahid Dastgerdi, and Oil Minister Massoud Mirkazemi. The visit is being made upon an invitation by Rahimi.
During the meeting, Rahimi noted that the volume of trade transactions between the two countries is not very high, but expressed hope that the meeting would help strengthen bilateral economic relations.
The Algerian prime minister also held a meeting with Iranian Foreign Minister Manouchehr Mottaki and is scheduled to meet with President Mahmoud Ahmadinejad.
During the meetings, the two sides underlined the necessity to promote cooperation in various sectors.
Ouyahia said Algeria wants to expand economic cooperation with Iran and is interested in making use of Iran's expertise in science, technology, and economic affairs.
Speaking in a telephone conversation with the Algerian premier last week, Rahimi expressed optimism about efforts to expand ties between the two countries, saying that the Islamic Republic and Algeria could strengthen their bilateral relations, particularly in the oil and natural gas sectors.
A preliminary meeting of the Iran-Algeria joint commission was held on Saturday, in which Iranian and Algerian officials stressed the need to increase economic cooperation between the two countries.
During the meeting, Iranian Minister of Housing and Urban Development Ali Nikzad and Algerian Deputy Foreign Minister Abdelkader Messahel discussed ways to increase trade between Tehran and Algiers, which currently stands at about $150 million annually.
The meeting of the Iran-Algeria High Joint Commission will be a follow-up to Iranian President Mahmoud Ahmadinejad's visit to the country.
President Ahmadinejad made a short stop in Algeria prior to his visit to New York in late September, where he met with his Algerian counterpart Abdelaziz Bouteflika.