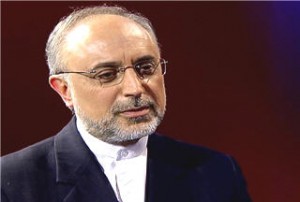 Iran says it is still waiting to receive "tangible assurances" from Western powers on the supply of fuel for a research reactor in Tehran.
A deal US brokered in the UN nuclear watchdog proposed that Iran ship a large proportion of its domestic low-enriched uranium (LEU) abroad for conversion into fuel rods for the Tehran research reactor.
Iran dismissed the deal, arguing that the West had failed to provide enough guarantees that the fuel would actually be delivered to Tehran, and instead proposed the simultaneous exchange of the shipment on its own soil.
On Wednesday, the Head of Iran's Atomic Energy Organization Ali Akbar Salehi reiterated that while the Tehran government had accepted the basics of the nuclear swap deal, it still wanted cast-iron guarantees from Western countries on the proposal which would include simultaneous fuel swap on Iranian soil.
Salehi added that Foreign Minister Manouchehr Mottaki will touch on the issue in meetings with members of the UN Security Council on the side lines of a Nuclear Non-Proliferation Treaty (NPT) review meeting in New York.
He, however, said that "there are alternative methods that the foreign minister will detail them after meeting Security Council members."
Salehi added that "a letter has been written to the International Atomic Energy Agency, asking the UN nuclear watchdog to introduce countries that are able to provide fuel for the Tehran research reactor."