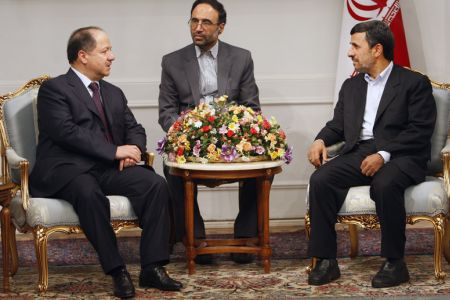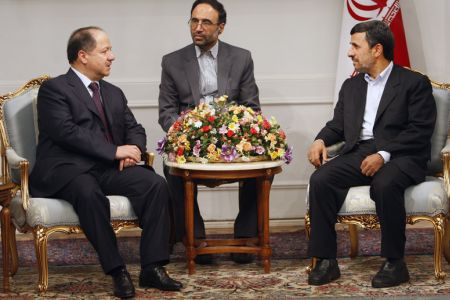 Iranian President Mahmoud Ahmadinejad says Iran wants to see security and development in Iraq and has called for unity among Iraq's various groups.
Ahmadinejad made the remarks during a meeting with Iraqi Kurdistan Regional Government (KRG) President Massoud Barzani in Tehran on Sunday, IRNA reported.
He noted that the restoration of security in Iraq would enhance the stability of the entire region, adding that all Iraqi groups should work hand in hand in the reconstruction and development of their country.
"Iran wants to see progress, development, and security in Iraq. The Islamic Republic also believes progress in Iraq would be beneficial for the entire region," the Iranian president said.
The KRG president called for closer cooperation between Tehran and Baghdad in all spheres.
Barzani stated that Iran's security is of the utmost importance for Iraq, noting that insecurity along the two countries' common border would be detrimental for both nations.
Earlier in the day, Barzani held a meeting with Leader of the Islamic Ummah and Oppressed People Imam Seyyed Ali Khamenei, in which they called for closer cooperation between the two countries.
Barzani also met with Majlis Speaker Ali Larijani, Foreign Minister Ali Akbar Salehi, and Supreme National Security Council Secretary Saeed Jalili.
Barzani arrived in Tehran for an official three-day visit on October 29, at the head of a high-ranking delegation, to discuss regional developments with Iranian officials.