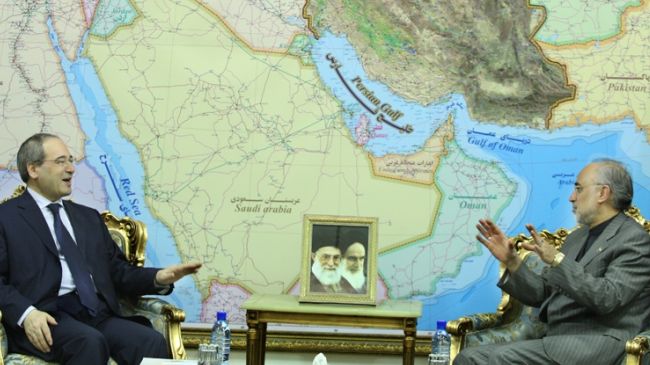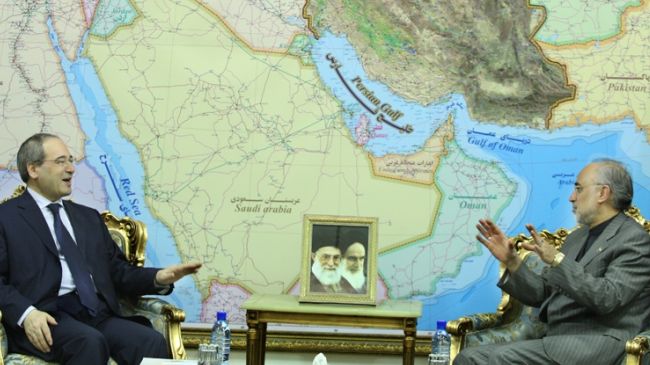 Iran's Foreign Minister warns against intervention in Syria, voicing Tehran's readiness to help with the political process initiated by the Syrian government and UN-Arab League envoy Kofi Annan.
Speaking with Faisal Meqdad, the special envoy of the Syrian President and the country's deputy foreign minister, Ali Akbar Salehi said on Wednesday that international and regional parties should avoid hasty, interventionist and unilateral measures in Syria.
According to a Foreign Ministry statement, Salehi emphasized Iran's all-out support for Damascus, saying Syria should pass through the existing security situation, push ahead with reforms, and pay attention to popular demands as a prelude to national dialogue.
The Iranian foreign minister voiced readiness to help the Syrian government and nation especially with the reconstruction of areas damaged in the unrest.
Meqdad, for his part, presented a comprehensive report on the latest political, security and economic situation in Syria, adding that Damascus is serious about proposed reforms and initiating the national dialogue.
Earlier on Wednesday, Salehi told reporters after a meeting with visiting Turkish Prime Minister Recep Tayyip Erdogan that Annan would visit Tehran next week.
"We are optimistic about Kofi Annan's mission in Syria and we think that support from Arabs, Turkey, and the UN for Kofi Annan's mission will help solving the crisis in Syria," he added.
Salehi also warned that any hasty unilateral action that would lead to a power vacuum in Syria could have serious consequences for the region.
The Syrian government says that the chaos is being orchestrated from outside the country and the security forces have been given clear instructions not to harm civilians. The gangs are financed and supported by US, France, Israel, Turkey and their regional allies. This terrorist groups kill civilians then blame the Syrian Security Forces. The US-Backed armed groups also kill the security forces. On the contrary to the reality in Syria, the world media especially so-called Islamic Media misinform the people and lies about what is really hapening in Syria. Especially Al- Ja zeera Tv and some west media are producing false news about Syria. These coloured media say that they will go on producing false news if Syria continue to be a key between the Iran, Islamic Resistances like Hamas, Islami Jihad and Lebanese Hezbollah movements.