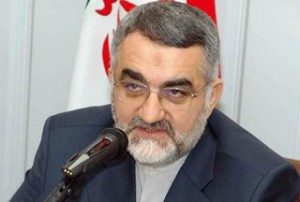 As Iran holds major drills in the Persian Gulf and the strategic Strait of Hormuz, a senior lawmaker warns bullying powers against creating insecurity in the region.
"They should know that the Islamic Republic will maintain its security with might and will never allow bullying powers to disrupt this sensitive region — which is tied with global security and economy — by imposing their will," Head of the National Security and Foreign Policy Commission of Iran's Parliament (Majlis) Alaeddin Boroujerdi said on Friday.
"Iran has expressed readiness to sign bilateral agreements on security and military cooperation with regional countries which has been welcomed by them and in some cases agreements have been signed," he added.
"This is beneath Muslim dignity to have foreign powers come to a region belonging to the Muslims from far the corners of the world and under the pretext of maintaining security exercise military presence and with their meddling in the domestic affairs of Muslim countries, cause bitter incidents such as Iraq and Afghanistan and victimize hundreds of thousands of people."
Boroujerdi said the three-day military exercise by Iran's Islamic Revolution Guards Corps (IRGC) conveys the message that "the security of the Persian Gulf should be maintained by regional countries."
"We hope that foreign powers will understand this message well and not make another mistake in the region so that the world and the Middle East will not have to face additional problems."