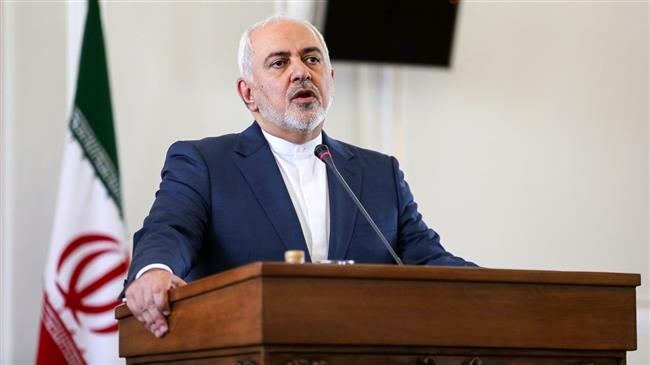 Foreign Minister Mohammad Javad Zarif issues a stern caution against any attempts at starting a conflict with the country, which is not seeking one, reminding that the Islamic Republic's recent seizure of a British-flagged tanker did not come as an act of "retaliation."
Zarif made the remarks to reporters in Nicaragua, where he has traveled to as part of a tour of Latin America after a United Nations' meeting in New York.
"Starting a conflict is easy, ending it would be impossible," he said after meeting with his Nicaraguan counterpart Denis Moncada.
"It's important for everybody to realize, it's important for Boris Johnson to understand, that Iran does not seek confrontation," he said, referring to the front-runner to become Britain's new prime minister.
"Iran wants to have normal relations based on mutual respect," he added.
The top diplomat made the remarks after Britain issued Iran a volley of threatening messages in response to its Friday seizure of the UK-flagged. Stena Impero was captured and an investigation initiated after the tanker collided with an Iranian fishing boat in the Persian Gulf and refused to respond to its distress call.
British officials have minced no words in accusing Tehran of taking the measure in retaliation to British marines' capture of an Iranian-operated supertanker in the Strait of Gibraltar on July 4.
Zarif said Iran only acted against Stena Impero after it flouted maritime regulations.
"The UK ship had turned down its signal for more time than it was allowed to [and] was passing through the wrong channel, endangering the safety and security of shipping and navigation in the Strait of Hormuz, for which we are responsible," Zarif said.
He also described the UK's seizure of the supertanker as "piracy" and "violation of international law" by British and Gibraltar authorities.
The British naval forces captured the vessel on the accusation that it was carrying Iranian oil to Syria in violation of the EU's unilateral sanctions on the Arab country. Tehran has denied that the supertanker was bound for Syria.
Later, Spain said the UK had taken the action at the request of the United States.
Washington has been trying to reduce Iran's oil sales to "zero" as part of its policy of "maximum pressure" against Tehran.