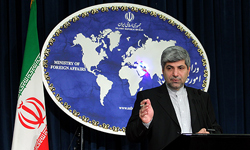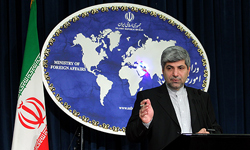 Iranian officials warned that any western aggression against the Islamic Republic would be reciprocated with a destructive reprisal.
Iran's Foreign Ministry Spokesman Ramin Mehman-Parast has warned the West against any anti-Iran measures, saying such hasty moves will inflict heavy losses on the country's enemies.
"The US and its Western allies are not able to carry out any operations against Iran and any rash, careless measure will [undoubtedly] impose heavy losses on them [the Western states]," Mehman-Parast said Wednesday.
He added that the hegemonic powers' acts of sabotage against the Islamic Republic are due to the country's great influence on the global political developments.
Iran has repeatedly warned that its Armed Forces are fully prepared to immediately deliver a crushing response to any offensive on Iranian territory.
On November 10, The Leader of Islamic Ummah and Oppressed People Imam Sayyed Ali Khamenei warned enemies about Iran's tough response to any aggression or even threat, stressing that the country would respond with full force to any attack.
"Iran is not a nation to sit still and just observe threats from fragile materialist powers which are being eaten by worms from inside," The Leader of Islamic Ummah and Oppressed People Imam Sayyed Ali Khamenei told students at a Tehran military college.
"Anyone who harbors any thought of invading the Islamic Republic of Iran – or even if the thought crosses their mind – should be prepared to receive strong blows and the steel fists of the military, the Islamic Revolution Guards Corps (IRGC), and the Basij (volunteer) force, backed by the entire Iranian nation," he said.
"Iran will respond with full force to any aggression or even threats in a way that will demolish the aggressors from within," he added.