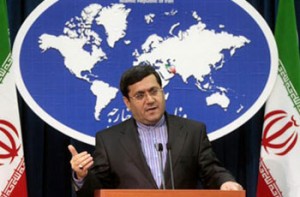 Iran's Foreign Ministry has expressed concern over the humanitarian implications of ongoing clashes in Yemen's northern province of Sa'dah.
Foreign Ministry Spokesman Hassan Qashqavi cautioned, in an official statement on Tuesday, that a humanitarian crisis may be unfolding in the Arab state.
"The clashes in Yemen over the past month, especially the unrest in the recent days, have claimed the lives of many defenseless civilians, wounded numerous others and displaced thousands of innocent people," Qashqavi said.
The spokesman reiterated Tehran's previous stance on the conflict, and pointed out that the Islamic Republic believes the solution to Yemen's problem lies in a strategy of non-violence.
Qashqavi said Tehran believes that San'a' can find its way out of the current crisis by adopting an approach that focuses on the rights of the Yemeni people.
Since 2004, Yemeni government forces and Zaidi Shia fighters have been engaged in a periodic war in northern parts of the country.
On August 11, a fresh round of fighting broke out after a year of relative peace, as the Yemeni army launched new attacks on Sa'dah, and Amran provinces.
San'a' claims that the Houthi, fighters are trying to restore the Zaidi imamate system, which was overthrown in a 1962 coup.
The Houthis, however, say that they are defending their people and fighting for their civil rights. Zaidi Shias, the clear majority in the north, make up around 40 percent of Yemen's overall population.
According to UN figures, the continued unrest in the past month has displaced around 50,000 more people, bringing the total count to 150,000 since 2004.
This is while international aid groups warn that the deteriorating humanitarian situation in northern Yemen has led to the displacement of another 35,000 people in just the past few days.
Based on figures released by the UN Children's Fund (UNICEF), the unrest has directly affected almost 75,000 children as well.