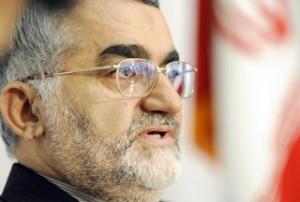 A senior Iranian lawmaker warns that any attempt by Moscow to back down on a deal to the deliver S-300 air defense system to Iran 'would run counter to Russia's interests'.
"The S-300 case, which is an old case, marks a new chapter in Russia's failure to keep its end of the deal," Iran's Parliament (Majlis) National Security and Foreign Policy Committee Chief Alaeddin Boroujerdi told reporters on Sunday.
Boroujerdi was referring to a contract signed between the Tehran government and the Kremlin in 2007.
"Given the extensive bilateral cooperation between the two countries, it would run counter to Russia's interests if negotiations fail to bear fruit in this matter," the influential lawmaker added.
Iran has opted to acquire the sophisticated S-300 defense system in reaction to Israeli rhetoric against Tehran. The missile defense system, according to Western experts, would shield Iranian nuclear sites against any Israeli airstrike.
"If Tehran obtained the S-300, it would be a game-changer in military thinking for tackling Iran," says long-time Pentagon advisor Dan Goure.
The S-300 surface-to-air missile system can track targets and fire at aircraft 120 kilometers (75 miles) away. The system features high jamming immunity and is able to simultaneously engage up to 100 targets.
The Israeli officials have on numerous occasions expressed concern over the possibility of the system being delivered to Iran.
"The S-300 is a Russian-made surface-to-air missile system that is very advanced, with long ranges and many capabilities," Israeli Air Force (IAF) commander, Major General Ido Nehushtan said in September.
"We need to make every effort to stop this system from getting to places where the IAF needs to operate or may need to operate in the future," he added.
While Russia's Federal Service for Military and Technical Cooperation said in October that Moscow would fulfill its commitment according to its 'international obligations', there has been interminable confusion reigning over the delivery of the defense system.
Boroujerdi warned that should Russia fail to fulfill its promises regarding the S-300 missile system, 'a negative point in the two states' relations would emerge'.