Iran
Middle East
Iran warns Trump administration against dangerous game it's playing
The Iranian foreign minister has described the Trump administration's officials as "pawns in Netanyahu's game", warning them against the consequences of the "extremely dangerous" Israeli game they are playing.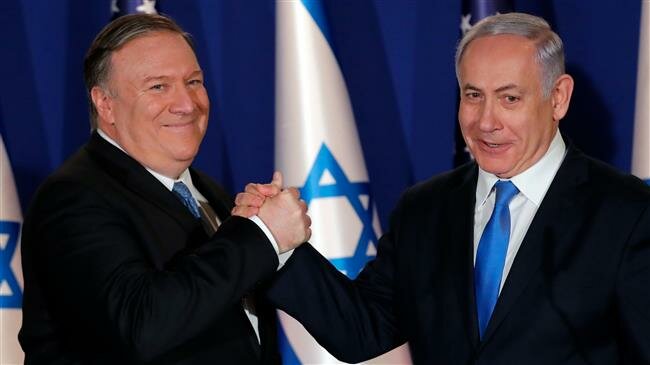 Mohammad Javad Zarif made the remarks upon arrival in New York, where is going to attend a UN General Assembly meeting on multilateralism and peace.
"With the US, with the standing of the US in the world, it seems that President Trump and the current people in the White House concern and consider more importantly the interests of Israel than those of the US," Zarif told reporters late Tuesday.
"[They] have become in fact pawns in a very dangerous Israeli game, in fact Netanyahu's game in our region. And this is extremely unfortunate and extremely dangerous," he warned.
'Netanyahu ordered Trump to end sanctions waivers'Israeli Prime Minister Netanyahu has ordered Trump to end exemptions from sanctions for several countries buying oil from Iran, says an American political analyst
Zarif described the US as the "source of instability in this region", saying that it has been cooperating with and supporting other sources of instability in this region, including Saudi Arabia and the UAE, which, according to the Iranian top diplomat, are countries that have "violated every principle of international humanitarian law."
"They [the Americans] need to reassess their policies and return to a normal behavior in the international scene. The US is currently an outlaw state that has violated almost any agreement that it had agreed," Zarif went on to say.
"The US has not shown that it's a credible negotiating partner; it has shown its contempt for international law and its own agreements and decisions in the past."
Zarif's comments come as US President Donald Trump is implementing what he calls the policy of "maximum pressure" against the Islamic Republic in a bid to "change Iran's behavior".
In its latest hostile move against Tehran, the White House said in a statement on Monday that Trump has decided not to renew waivers that allow eight countries to buy Iranian oil without facing Washington's sanctions.
The US threatened sanctions against the countries that refuse to stop purchasing Iranian oil by May 1.
US ends sanctions waivers for Iran oil importsThe White House says US President Donald Trump will not reissue waivers for Iran's oil imports.
The decision, which primarily affects China, India, Japan, South Korea and Turkey, sent oil prices to their highest levels since October 2018 on Tuesday, raising concerns about global crude supply.
Russia slams US' decision as 'reckless'
The Russian foreign ministry on Tuesday called the US' tightening of oil sanctions on Iran an "aggressive and reckless" policy, saying, "Such a course of action adds nothing to the Americans' international standing."
"The rest of the world perfectly understands that Washington's policy is becoming more and more aggressive and reckless," it said in a statement.
The ministry said that "Washington is not even hiding its desire to make the world bend to its will," branding the heightened Iran sanctions "disturbing".
Russia also praised Tehran's "restraint" over "the arrogant American provocations", calling on all parties "with common sense" to do what they can to ensure the 2015 deal on Iran's nuclear activities survives.
Oil prices on Tuesday hit their highest level since November 2018 in the aftermath of Washington's decision to end exemptions from sanctions for the countries buying oil from Iran.
Brent crude futures rose as high as $74.70, a level not seen since November 1, 2018, before paring their increase as the market gained confidence that global supply would remain robust. By 1355 GMT, Brent futures were at $74.28 a barrel, up 24 cents, or 0.32 percent, from their last close, Reuters reported.