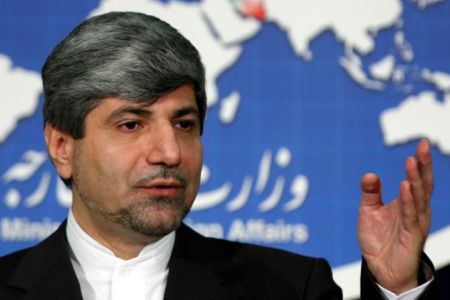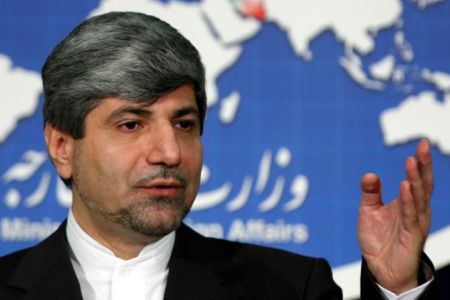 Iran has warned British Ambassador to Tehran Simon Gass against making interfering and provocative remarks after being granted the Knighthood title by Britain's Queen Elizabeth II.
"The British ambassador should be cautious about his remarks and conduct with regards to making interfering statements which have never been part of the diplomatic framework," Iranian Foreign Ministry Spokesman Ramin Mehmanparast said at his weekly press briefing on Tuesday.
"As far as we know, the label is annually granted to a number of individuals and officials in Britain as a ceremonial title," he added.
The Iranian spokesperson emphasized that ambassadors and diplomatic officials have the mission to strengthen ties between countries, saying, "They should never take measures to damage ties and stir emotions."
The British envoy to Tehran was appointed by Queen Elizabeth as Knight Commander of the Order of St. Michael and St. George (KCMG) in the 2011 New Year Honors.
The move drew massive criticism from a large number of Iranian lawmakers who say the timing of the decision unveils the true nature of Britain's hostile and interfering policies regarding the Islamic Republic.
Meanwhile, Mehmanparast pointed to reports about the suspected death of Iranian prisoner Ali-Reza Asgari in an Israeli prison and held the Israeli regime accountable for the case.
Asgari, the former Iranian deputy defense minister, mysteriously disappeared in 2007 while on a trip to Turkey. He is believed to have been abducted and transferred to Israel.
The spokesman also pointed out that consultations are currently underway with Turkey to find clues about the fate of the missing Iranian.
He noted that Israeli media have officially confirmed that the former Iranian official has been kept in prisons of the regime, reiterating, "The Zionist regime is responsible for Asgari's safety."
Mehmanparast described as "state terrorism" the Israeli move to kidnap Asgari and four other Iranian diplomats in Lebanon and stressed that Iran's Foreign Ministry is pursuing the cases through "legal and political" channels.
In similar criminal acts, Israel claims that four Iranian diplomats — Ahmad Motevasselian, Seyyed Mohsen Mousavi, Taqi Rastegar Moqaddam and Kazem Akhavan — were abducted by a group of Lebanese forces on July 4, 1982 and killed shortly after their abduction.
In a Monday message to president of the International Committee of Red Cross (ICRC) Jakob Kellenberger, Iran's Foreign Ministry Caretaker Ali Akbar Salehi expressed concerns over the alleged death of Asgari and urged the ICRC to help determine his fate.
On Thursday, Salehi also called on the United Nations for assistance in the case of Asgari, stressing that Israel must be held accountable for the health and safety of the former Iranian official.