Iran
Iran Warns US State Secretary to Stop Interfering Remarks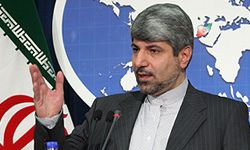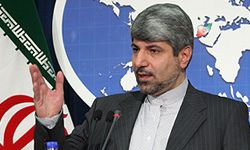 Iranian Foreign Ministry Spokesman Ramin Mehman-Parast Thursday night called on the White House officials to stop meddling in Tehran's domestic affairs, and said the recent remarks made by US Secretary of State Hillary Clinton on Iran displayed her lack of knowledge and information.
Mehman-Parast strongly rejected the allegations raised by Hillary Clinton in her Wednesday interview with the BBC against Tehran, and stressed, "Mrs. Clinton's lack of information about Iran's issues has a history. Hence, she and other US administration officials are advised to stop using suppressive methods and exercising dictatorship inside the US and avoid continuing occupation and interventionist policies towards other countries instead of leveling accusations against others."
"Officials of the United States of America had better meet the demands of their people, specially the youth, which are manifested in the Wall Street Protest Movement and comply with the demands and aspirations declared by the people in the Islamic Awakening and popular uprisings in the regional countries who want the US to give up support for dependant rulers and stop military and security presence and interference in the other countries' affairs," he added.
The spokesman once against rejected the US allegations about Iran's involvement in a plot to assassinate a Saudi envoy to Washington, and reiterated Tehran's respect for international conventions and regulations, and said the US administration has refrained from complying with its international undertakings through such methods as intimidation and political pressures against certain states.
Commenting on Clinton's remarks about the opening of a virtual US embassy for Iranians via the Internet, Mehman-Parast said, "The US administration seems to be grappling with a profound confusion in international relations, specially in connection with such a powerful and independent country as the Islamic Republic of Iran."
Clinton, in interviews with the Persian language services of the BBC and Voice of America on Wednesday, said the United States plans to open a "virtual embassy" for Iran that will give Iranians online information about visas and student exchange programs despite the lack of formal diplomatic ties.
She defended US sanctions against Iran, and repeated Washington's allegations linking Tehran to a plot to assassinate the Saudi ambassador in Washington.
Clinton used both interviews to pretend that the United States hoped to broaden contacts with regular Iranians despite tensions with the Tehran government, and described Iran's Islamic establishment as a military dictatorship.
"We would be thrilled if tomorrow the regime in Iran had a change of mind," she told the Voice of America.
Clinton said the "virtual embassy" website would be open by the end of the year and it would provide Iranians with information on visas and other programs.
The United States and Iran broke diplomatic relations in April 1980, after Iranian students seized the United States' espionage center at its embassy in Tehran. The two countries have had tense relations ever since.
In his waning months in office, former US President George W. Bush weighed opening a US Interests Section, which could issue visas, in Tehran, but ultimately decided against it.
In her astonishingly interfering remarks, Clinton said the United States was providing both technology and training to help Iranians circumvent government limits on the Internet and other forms of communication while seeking to expand sanctions on Tehran.
Further in the interview, she paradoxically acknowledged that economic sanctions caused difficulties for average Iranians, but said they were the best tool to pressure Iran's leaders, meaning that when it comes to politics and power struggle there is actually no difference between people and governments.
Just one of the many results of the US-led sanctions which are directly targeting the Iranian people is the crash of some of Iran's western made airliners. The US-led sanctions against Iran have prevented the government accessing certain parts for the maintenance of its western passenger planes, resulting in the crash and death of Iranian citizens.
Clinton confessed she was aware that many people around the world were skeptical about US charges this month that Iran was tied to a plot to kill the Saudi ambassador, but alleged that she believed Washington had a strong case.
Iran has rejected the US accusation as a fabrication designed to sow discord in the oil-rich Persian Gulf and Muslim world.