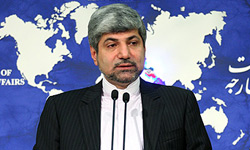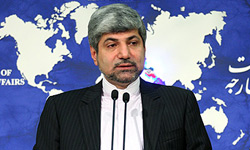 Iranian Foreign Ministry Spokesman Ramin Mehman-Parast on Tuesday warned the western powers to stay away from the current developments and uprisings in the regional countries.
Commenting on a possible US military intervention in Libya, Mehman-Parast said that the violent attitudes and behaviors of a number of regional dictators against their own people should not become an excuse for the West's military invasion of such countries.
"These issues (massacre of protesters) shouldn't be an excuse for military intervention in these countries," Mehman-Parast noted, adding, "And other countries, specially the West, should not misuse the occasion – which has been created by the people who have come to the scene to control the fate of their country – to turn these countries into their new military bases."
He also condemned the brutal acts of Muammar Qaddafi's regime against the Libyan people, and called on the regional leaders to practice more rational moves and leave the scene and prevent destruction of their countries and massacre of their people through inhumane approaches.
The remarks by the Iranian foreign ministry presser came days after the United States said that it is not taking any options off the table with regard to its response to the violence in Libya, including a potential US military action.
White House Spokesman Jay Carney said on Friday that the US was moving forward with plans to impose sanctions and cut diplomatic ties with Libya in response to violence there as Muammar Qaddafi's security forces stepped up efforts to crush a widening revolt against his rule.
Meantime, the United Nations' Security Council has unanimously voted to impose sanctions on Libyan leader Qaddafi, members of his family and his closest allies over the regime's deadly crackdown against anti-government demonstrators.
The 15-nation council has also called for an immediate referral to the International Criminal Court in The Hague, and demanded an immediate end to the violence and steps to address the Libyan population's legitimate demands.
Names of Sixteen people are on the sanction list, and travel bans and asset freezes have been imposed on them.
The council did not consider the imposition of a no-fly zone over Libya – a suggestion raised over concerns that the Libyan air force was being used to target demonstrators – and no UN-sanctioned military action is planned so far.