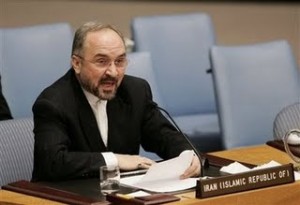 Iran's ambassador to the United Nations Mohammad Khazaee has welcomed an investigation into Israeli crimes during the Gaza war.
Speaking at the UN General Assembly on Wednesday, the envoy said that a resolution on the Israeli war crimes during the three-week Gaza war would provide an opportunity for the UN to haul Israeli officials up before the international court.
He said a report by an independent UN fact-finding committee has highlighted Israeli war crimes and crimes against humanity during.
Khazaee said the report, submitted by former war crimes prosecutor Richard Goldstone, proves that Israel seriously violated human rights.
"During the aggression, some 1,400 Palestinians were killed … many were severely injured or maimed for life. Hundreds of those killed were defenseless civilians including some 300 children and more than 115 women."
The envoy added that much of the destruction resulted from 'willful' indiscriminate attacks on civilian objects, which amounted to the violation of basic principles of human rights and laws banning attacks on civilians.
"The attacks were pre-planned and willful. Moreover, the Israeli military's extensive use of phosphorus bombs and cluster bombs and the use of Palestinians as human shield are known to everyone."
The UN General Assembly is set to vote on a non-binding resolution on Thursday, which requires Israel to conduct an investigation into charges of war crimes committed during its offensive on Gaza.
The voting will come at the end of a two-day debate on the Goldstone report, which mainly highlighted Israeli violation of international laws during the deadly attacks by Israeli fighter jets and ground troops during the Gaza onslaught.
The UN committee charged the Israeli army with intentional targeting of places known to hold civilians and using Palestinians as human shields among other war crimes.
The General Assembly's draft resolution introduced by Arab states and the Non-Aligned Movement, which represents 118 nations, wants the UN chief to send the findings from the Goldstone report to the Security Council if independent investigations of the alleged war crimes are not set up within three months.
The report, backed by the United Nations Human Rights Council, looked into 36 incidents during Israel's war on Gaza, saying it could not find any military targets to justify attacks by Israeli forces.