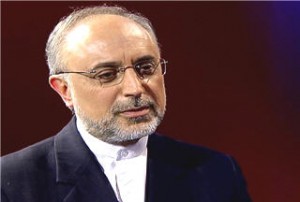 The West has no choice but to reach an agreement with Tehran on its nuclear program, the head of the Atomic Energy Organization of Iran has said.
Speaking to the Egyptian paper Al-Ahram, Ali Akbar Salehi said the US and its Western allies do not seek an end to the nuclear issue but want to "all together eliminate Iran's nuclear program."
He added, however, that the West will "definitely" agree with Iran over its nuclear program.
"We believe there is no choice [for the West] but an agreement over the nuclear program," Salehi said.
Talks on Iran's nuclear program have come to a standstill due to a failure to agree on a swap deal to provide Tehran with the nuclear fuel for its research reactor.
Under a proposed nuclear fuel swap deal, Iran would have to send most of its low-enriched uranium abroad for further processing and conversion into fuel rods for the Tehran research reactor, which produces radiomedicine for cancer patients.
Iran has demanded guarantees on the timely delivery of the fuel — a request the West has so far failed to meet.
Salehi described Western claims that Iran was developing nuclear weapons as "strange" and said religious teachings as well as the Leader of the Islamic Revolution prohibit the building and use of such arms.
Iran, a signatory to the Nuclear Non-Proliferation Treaty (NPT), has stressed that its nuclear program is solely aimed at the civilian applications of the technology.