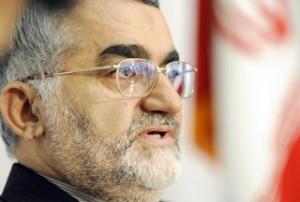 A senior Iranian lawmaker says that Iran will enrich uranium up to 20 percent purity to power the Tehran Research Reactor should Western countries refuse to supply the country with the required nuclear fuel.
"The Tehran reactor produces medicine for 800,000 people. The parties engaged in negotiations with Iran to supply the 20 percent [enriched] fuel are advised to stop the procrastination. Otherwise, Iran will begin 20 percent enrichment," the chairman of the Iranian Parliament's National Security and Foreign Policy Committee told IRNA on Sunday.
MP Alaeddin Boroujerdi rejected the allegations made by Western media outlets and officials that Tehran is ready to swap uranium in a third country, such as Turkey.
"Iran's stance that the nuclear fuel swap must take place in Iranian territory will not change. The West should try to find a way out of the current stalemate rather than creating a brouhaha," he stated.
Tehran rejected a December 31 deadline set by the United States for Iran to accept a deal to swap its low-enriched uranium for nuclear fuel outside Iran. The Islamic Republic calls for "concrete guarantees" for the return of its fuel, since in the past, some Western countries have reneged on their nuclear commitments to Tehran.
Under a draft deal brokered by the International Atomic Energy Agency, Iran would have been required to send most of its domestically-produced low-enriched uranium abroad, where it would have been processed into fuel rods with a purity of 20 percent.
The 20 percent enriched uranium would have been transported back to Iran to fuel the Tehran Research Reactor, which manufactures medical radioisotopes.