Iran
Iran will further reduce JCPOA commitments if other parties fail to fulfill theirs: Rouhani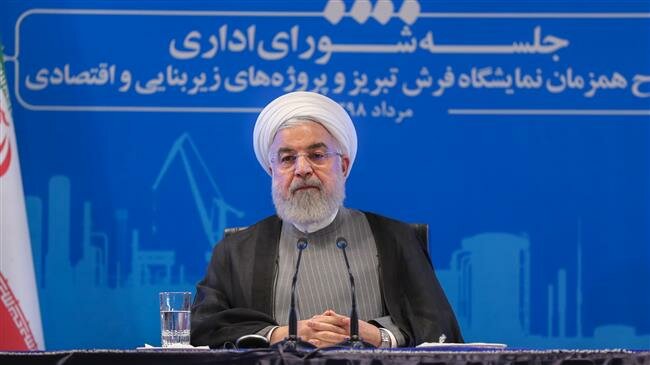 Iran's President Hassan Rouhani says the country will continue to further reduce its commitments under the landmark nuclear deal, officially known as the Joint Comprehensive Plan of Action (JCPOA), if other parties to the accord fail to live up to their commitments.
Speaking during a meeting of executive officials in the northwestern city of Tabriz on Thursday, Rouhani said that Iran is currently in talks with some countries and they have offered proposals for the survival of the JCPOA, which have not been accepted by Iran.
"It is possible for us to reach an acceptable result in coming weeks and it is possible to reach a result. However, if we do not reach a result, the next stage of reducing our commitments [under the JCPOA] will enter into force," Rouhani said.
Since May, Iran has been suspending some of its commitments under the nuclear deal, which was clinched between the country and the P5+1 group of states — the US, the UK, France, Russia, China, plus Germany — in Vienna in 2015.
The raft of nuclear measures have come in response to the US departure from the deal in May 2018, and also in order to prompt other parties to the JCPOA to guarantee Iran's business interests under the accord.
The responses have already seen Tehran surpassing the 3.67-percent limit set by the nuclear deal on its uranium enrichment activities, and letting its heavy water reservoir to exceed the 130-ton cap defined by the accord.
Elsewhere in his remarks, Rouhani noted that the country has come under considerable pressure on the back of the US's illegal departure from the accord "because the Americans caused the risk of investment in Iran to go high for [foreign] companies."
When the Islamic Republic came to realize that other countries were not prepared to accept the risks as a result of the US actions, "we told the world that if we cannot derive the benefits of this accord, we are going to reduce our [nuclear] commitments step by step," Rouhani said.
The countermeasures, he added, are meant to show the world that if the other signatories fail to meet their commitments, the country's hands are not tied and it has a multitude of ways before it in the face of the others' non-commitment, and that it can defend itself and its economy.
Despite slashing its commitments on two bouts, each of which have seen Iran suspending the same number of obligations, the country is still engaged in discussions with the other signatories, Rouhani said. He was apparently referring to ongoing negotiations with the remaining JCPOA signatories aimed at salvaging the deal.
"Today, the world has realized that the Iranian nation is too great to break down as a result of their (the US and its allies') pressure and threats," he asserted.