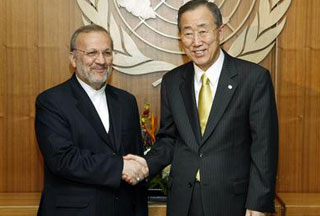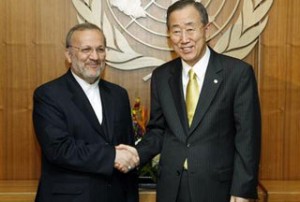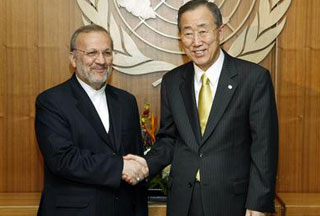 Iranian Foreign Minister Manouchehr Mottaki has told UN Secretary General Ban Ki-moon that Iran will not relinquish its nuclear rights under pressure.
"As far as defending its inalienable nuclear rights is concerned, Iran will not surrender to political pressure," Mottaki said in a meeting with Ban in New York on Tuesday.
Iran's top diplomat called on the UN to make a "comprehensive review" of regional issues based on "realities and justice".
"Iran will never relinquish its legitimate nuclear right to develop nuclear technology for peaceful purposes under political pressure," IRNA quoted Mottaki as saying.
Mottaki met with the UN chief on the eve of a meeting between Iran and the major world powers of the P5+1 group (the US, Britain, France, Russia, China, and Germany).
Political directors of P5+1 group members and Iran's chief nuclear negotiator, Saeed Jalili, are scheduled to hold talks in Geneva on October 1.