Iran
Iran-World Powers Talks for Cooperation Should Entail Removal of Sanctions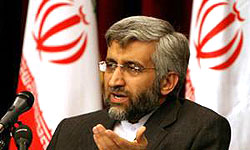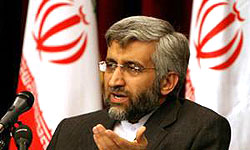 Tehran's chief negotiator Saeed Jalili said withdrawing sanctions against Iran should be a focal point in any future talks on cooperation between Iran and the world powers.
Jalili made the remarks after two rounds of fruitful talks with the six world powers in Istanbul, Turkey, on Saturday, which led the two sides agree to continue negotiations in Baghdad on May 23 and draft an agreement on cooperation before the meeting.
"It is of crucial importance that our (future) cooperation will entail reciprocal steps, that is, our nation's trust should be built in the trend of talks and cooperation," Jalili told reporters at a press conference after the second meeting with the representatives of the Group 5+1 (the five permanent UN Security Council members plus Germany) in Istanbul.
He said the Iranian nation is only demanding "the very same rights enshrined in the Non-Proliferation Treaty (NPT)", and reiterated, "Iran, as an active member of the NPT, should enjoy its rights alongside its undertakings."
"We deeply believe that removal of sanctions, which is demanded by the Iranian nation, is one of the issues which should receive attention in the trend of talks on cooperation," the Iranian top negotiator underscored.
Asked if the two sides had any discussions over those nuclear states which are not party to the NPT and do not, thus, find themselves bound to the international rules and community, he said today's talks more focused on the framework of future negotiations and cooperation, "but this is a vital issue in nuclear cooperation, specially on disarmament and non-proliferation of nuclear weapons".
Asked to express his view about the two rounds of talks with the world powers, Jalili said, "What we observed in the approach stated by the (Group 5+1) members today was an approach towards talks and cooperation and we consider this to be positive.
"We have always stated that pressure and the language of threat is useless in dealing with the Iranian nation, but talks and cooperation can be a positive approach," he added.
Iran and the six world powers resumed negotiations in Istanbul on Saturday after a year of stalled talks and are due to continue their talks in Iraq's capital city, Baghdad, on May 23.
The two sides attended two meetings at Istanbul's Lutfil Kirdar Hall on Saturday. Jalili headed the Iranian side, and EU foreign policy chief Catherine Ashton led the delegations of the world powers.
Both Jalili and Ashton voiced satisfaction with the Saturday talks.