Syria
Iran wraps up confab on Syrian situation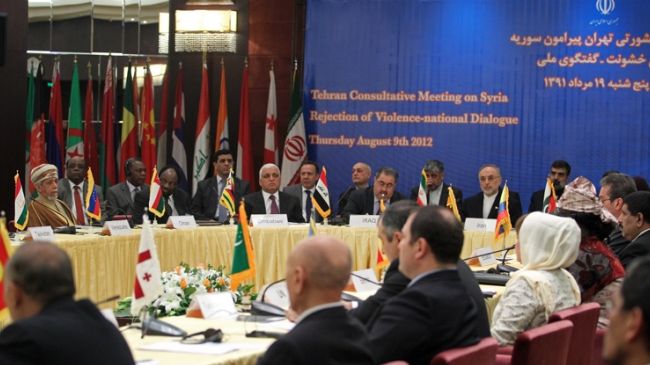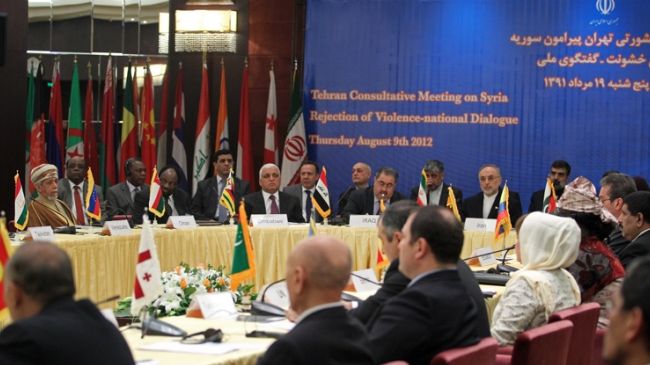 A day-long international consultative meeting on Syria has wrapped up in the Iranian capital, Tehran, with participants underlining the need for the resolution of the Syrian unrest based on international regulations, non-interference and respect for the sovereignty and territorial integrity of countries.
The Tehran Consultative Meeting on Syria, attended by officials and representatives from 27 countries, wrapped up in Tehran, on Thursday night.
The meeting discussed ways "to lay the groundwork for consultations among countries in a peaceful atmosphere and to reinforce all-out regional and international efforts aimed at helping the Syrian people find a way out of the ongoing crisis in the country, "a statement issued at the end of the meeting read.
In the statement, the participants voiced deep concern over the ongoing clashes, the human rights violation and heavy loss brought about by the conflict in Syria.
They underlined the need to follow political solutions based on national dialog to put an end to the crisis and violence in Syria.
They also supported the Syrian people's legitimate demands for the implementation of reforms without any foreign interference.
The statement called for an end to foreign supplying of arms to insurgents in Syria and warned against the infiltration of terrorist groups into the Syrian conflict as well as the spread of terrorism to the region.
Syria has been the scene of unrest since March 2011. Because the presence of armed groups who are supported, financed and armed by Washington, Tel Aviv, Ankara, London, Paris, Berlin and certain Arab regimes.
Zionist Slaughterer Israeli spy chief says Tel Aviv supports regime change in Syria, amid ongoing efforts by the anti-Syria governments to oust President Bashar al-Assad.
"I hope it (regime change in Syria) will happen, even though I don't know when or how," Dan Meridor, who also serves as the deputy prime minister of the Tel Aviv regime, said on Tuesday.
He also expressed "hope" that the "new Syria will understand that joining Iran is a mistake that brings isolation from the Western world."
The latest remarks by the Zionist Salughterer Israeli official come as anti-Syria Western regimes along with Saudi Arabia, Turkey and Qatar have been supporting terrorists inside Syria.
Syrian President Bashar al-Assad said on August 1 that the country is engaged in a "crucial and heroic" battle that will determine the destiny of the nation.