Iran
Iranian Air Force's F4, Mig29 Fighters Destroy Ground, Air Targets in Wargames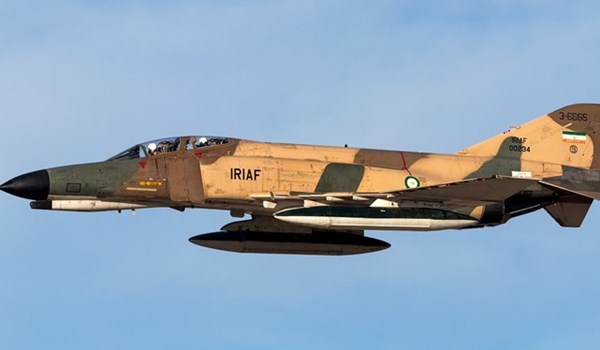 The Iranian Army Air Force's F4 and Mig 29 fighter jets destroyed ground and air targets by optimized home-made missiles on the second day of massive wargames, codenamed Eqtedar Havayee Fadayian Harim-e Velayat, in Central Iran on Tuesday.
On the second day of the main and operational phase of the drills, the F-4 bomber fighters fired pin-pointing, smart and electro-optic-guided Yasin missiles at marked targets and destroyed them successfully, Spokesman of the drills Brigadier General Farhad Goudarzi said.
"Also, Mig 29 planes fired optimized air-to-air missiles, intercepting and destroying missiles fired by the hypothetical enemy's aircraft successfully," he added.
General Goudarzi also said that Iran's home-made Karrar bomber drones fired 500-pound bombs at ground targets, destroying them completely.
On the first day of the massive drills on Monday, Iran's Su-24 fighter jets had successfully destroyed hypothetical enemy targets by firing 500kg smart missiles.
The strategic Sukhoi-24 bomber fighters of the Iranian Air Force which carried different types of home-made optimized and pin-pointing 500kg missiles, destroyed the ground targets, including the radars of hypothetical enemy, during the wargames, General Goudarzi said on Monday.
"In this stage, also the F-14 and Mig-29 fighters successfully conducted aerial combat operations in combat conditions in warlike battle scenes," he added.
Also, on Monday, the RF-4 planes of the Iranian Army Air Force carried out reconnaissance operations and conducted imaging over the wargames' zone during the massive drills underway in the Central parts of Iran.
"The reconnaissance RF-4 planes equipped with the advanced Samat cameras which have been produced by Air Force experts flew over the hypothetical enemy positions along with (home-made) Kaman 12 drones to gather signal intelligence data and conduct electronic eavesdropping, monitoring and taking images of enemy targets," General Goudarzi said.
He added that on the first day of the operational phase of the drills, the F-5 and home-made Saeqeh aircraft successfully fired home-grown rockets at vital targets of hypothetical enemies.
"Also, F-7 planes equipped with home-made smart, pin-pointing and electro-optic-guided bombs and air-to-ground rockets attacked important targets of hypothetical enemy," General Goudarzi said.
He added that the F-14 fighters also successfully carried out aerial refueling operations from the Boeing 707 refueling tankers during the wargames.
Meantime, during the drills, electronic warfare operations and testing of advanced air force communication systems by using secure wired and wireless network platforms and different types of tactical systems were successfully conducted, General Goudarzi said.
Commander of the Islamic Republic of Iran Air Force (IRIAF) Brigadier General Aziz Nasirzadeh had on Sunday announced plans to stage the massive aerial wargames in Isfahan general zone.
"Dozens of fighter jets, bombers, heavy and semi-heavy transport, refueling, interception and reconnaissance planes, air patrols and drones will perform the main phase and operational phase of the drills for 2 days," he added.
General Nasirzadeh said that different types of heavy bomber planes, Sukhoi 24, F4, F5, F7, F-7, MiG-29, F-14, Saeqeh, Boeing 707 and 747 refueling aircraft, C130 transport and logistic aircraft along with various types of drones, including Karrar, Ababil, Arash and Kaman 99 equipped with pin-pointing missiles, long-range smart bombs and radar-equipped jammers are present.
He added that carrying out surveillance, reconnaissance and imaging operations by using aerial images taken by manned and unmanned aircraft, destroying air and ground targets using pin-pointing and smart ammunition, air patrol operations using interceptor aircraft equipped with indigenous missiles to confront any enemy air aggression, air refueling and modern warfare operations to counter the enemy's new threats are important parts of these wargames which will be conducted on a large scale.
General Nasirzadeh underlined that indigenous and upgraded systems and weapons, including heavy and semi-heavy smart bombs, various types of laser, television, thermal and radar-equipped missiles as well as different rockets and bombs produced by Iranian experts will be displayed and used during the drills.
He added that Iranian specialists have designed and produced all these weapons and military equipment in conditions that the country was under the harshest sanctions.